Billy Dee Williams Wants Your Help Bringing Lando Back To Star Wars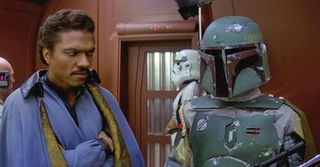 Now that George Lucas has all-but-confirmed that Harrison Ford, Carrie Fisher and Mark Hamill will all be back for more Star Wars films, we're left to wonder about the return of other classic characters. Well, those played by humans at least-- I'm pretty sure we can count on droids like C-3PO and R2D2 to come back no matter what. There's still nothing official out there whatsoever, beyond J.J. Abrams' involvement as director, but that's not going to keep at least one original cast member from campaigning for his return.
Talking at the Emerald City Comic-Con in Seattle (via Movies.com), Billy Dee Williams said he hasn't been approached by Disney or Lucasfilm, but he's be happy to return. One of his reps took it a little further, grabbing the mic and telling the assembled audience to tweet, send letters and e-mails to Kathleen Kennedy, J.J. Abrams, and everyone else with the power to cast the movie. Asked if he could play a younger version of the character (since speculation has it that there will be a Han Solo prequel/spin-off), Williams confidently replied "No one can play Lando but me."
Most fans would probably agree, and even though Ewan MacGregor did a perfectly credible job taking over the Obi-Wan reins from Alec Guinness, there seems to be no reason not to bring Williams back. I believe him when he says he hasn't heard anything-- but do you really think they're going to stage this whole reunion without Lando? I'll bet you $10 he shows up somehow when Star Wars Episode VII comes to theaters in 2015… or whenever J.J. Abrams decides it's ready.
Staff Writer at CinemaBlend
Your Daily Blend of Entertainment News
Thank you for signing up to CinemaBlend. You will receive a verification email shortly.
There was a problem. Please refresh the page and try again.