This Bird Does A Mediocre Matthew McConaughey Impression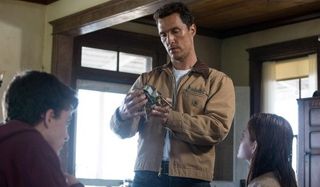 If you've been looking for an opportunity to tirade a parrot with vicious vitriol, now is your chance. Because the below loser of a bird does such a woeful Matthew McConaughey impression that he should probably just be plucked, cooked and fed to the masses. Too much? Just wait until you see his homage to the Oscar winning actor.
See, what did I tell you? Einstein the parrot is just looking for a punch. Maybe I'm overreacting a tad. I mean Einstein is only trying his best. It's just that his Texas drawl is laughable and without the Interstellar actor's soulful eyes and effervescent glow it just feels like a pale imitation. Still I doubt that Matthew McConaughey would do a good impression of Einstein. Actually, scratch that, the rich vein of form that the actor is currently in suggests to me that he would excel in an Einstein biopic. He'd probably even land himself a few acting nominations for his efforts.
Of course Matthew McConaughey originally patented his three-pronged declaration of "alright" in Richard Linklater's seminal 1993 masterpiece, Dazed & Confused. Matthew McConaughey played David Wooderson, a man in his early 20s who still hangs about with high school students in the coming-of-age drama. You can check out his iconic utterance of "alright, alright alright" below. It's downright hypnotic.
However it was Matthew McConaughey's decision to round off his acceptance speech at the 2014 Academy Awards, where he picked up the Best Actor statue for his Dallas Buyers Club performance, with his Dazed & Confused catchphrase that truly cemented the saying's place in pop culture folklore. Despite the fact that his speech ran on for the tedious length of just over three minutes, Matthew McConaughey kept everyone intrigued with his rambling soliloquy before he then enchanted the world with the repetition of just one simple word. You can check out his entire Oscar speech below. But the bit you are interested in is around the 4:20 mark.
All in all, though, it was a nice effort from Einstein. But this is the big league. And when it comes to doing Matthew McConaughey impressions, there is only one man who can be called the king. And his name is Mr. Matthew Damon. Game, set and match.
Your Daily Blend of Entertainment News
Your Daily Blend of Entertainment News
Thank you for signing up to CinemaBlend. You will receive a verification email shortly.
There was a problem. Please refresh the page and try again.