The Bizarre Reason Angelina Jolie Isn't Able To Promote Her New Movie Unbroken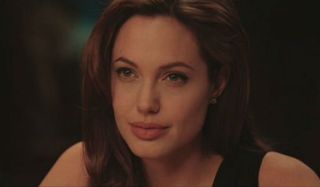 Angelina Jolie wasn't able to make it to the LA premiere of her latest directorial project Unbroken over weekend, and it wasn't because of embarrassment over leaked emails in the Sony hacking scandal. Jolie disappointedly notified her fans via video message, that she'd be stuck home sick with none other than the chicken pox. Watch below:
You would think an announcement of chicken pox would come from one of the Jolie-Pitt's six kids, not the glamorous Jolie herself. But, it's totally understandable she'll be unable to promote her new movie for the time being, because adult chicken pox is the worst. In the video she gracefully says, "I will be home, itching, and missing everyone. And I can't believe it because this film means so much to me. I just can't believe it. But such is life." She's super apologetic, and seems to be taking the unfortunate news like a trooper. And to be honest, though chicken pox really is no fun, it is a great time for Jolie to be able to get away from the press for a bit.
Recently, a Sony hacking leak exposed Hollywood producer Scott Rudin's emails to Amy Pascal, co-chairman of Sony Pictures Entertainment about Angelina Jolie and there were some very harsh feelings towards the actress. Gawker reported on the email exchange from Rudin:
While this is all pointless drama when it comes down to Jolie's current project, it is something that Jolie would have to deal with in the press. And that could take away from the value of her film Unbroken. So while the itching may be rough, Jolie may be doing her film a favor, and straying away from unnecessary dramatic scandal coverage that could have taken precedent at the premiere.
But these next couple weeks are valuable promoting time, right before the release of Unbroken on Christmas Day, December 25, so hopefully Jolie can quickly recover. The war drama, produced and directed by Jolie is based on the 2010 nonfiction book Unbroken: A World War II Story of Survival, Resilience, and Redemption. It follows an Olympic track star who survives a plane crash only to drift on a raft until having to spend several years living in a Japanese POW camp. Here's the official trailer:
Jolie's directorial debut In the Land of Blood and Honey received mixed reviews, so we'll have to see how her second directing project goes when Unbroken hits theaters Christmas day.
Your Daily Blend of Entertainment News
Thank you for signing up to CinemaBlend. You will receive a verification email shortly.
There was a problem. Please refresh the page and try again.