The Bizarre Way Oscar Isaac Had To Read His Star Wars 7 Script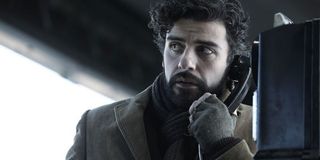 Star Wars: The Force Awakens is one of the most hotly anticipated movies in the history of cinema. Of course, this means that the sci-fi behemoth is shrouded in secrecy, and those involved are open to a good deal of trouble if they reveal even the slightest bit of information that was supposed to be kept hidden. Oscar Isaac has now admitted that this secrecy is so intense it even affected how he had to read the film's script.
During an interview with Yahoo Movies to promote his upcoming turn in JC Chandor's A Most Violent Year, Oscar Isaac explained the bizarre scenario in which he read through the script. Said the actor,
Oscar Isaac also admitted that, in the end, this was a tad disheartening as an actor. In fact, he even revealed that it ever so slightly affected the personal way he prepares to play a character - but never the less he completely comprehended the need for for secrecy. "It gets in the way of the process a bit, but it's understandable," he said.
Oscar Isaac - who has said that pretty much all of the current theories regarding the plot for Star Wars: The Force Awakens are completely wrong - will be playing the new character Poe Dameron in the blockbuster. We even got a first glimpse of Oscar Isaacs in full Star Wars mode in the first trailer for The Force Awakens, as he flew his X-Wing into battle.
Some Star Wars aficionados have already started to predict that Oscar Isaac's pilot might be a bit of a miscreant in the seventh installment to the absurdly popular franchise. That is because of his intense staring and glaring inside his X-Wing. However, not too much should be read in to that, since, you know, it was such an obscenely short shot.
This has been a rather wonderful year for Oscar Isaac. He started it off by being nominated for a cavalcade of awards thanks to his stunning performance as the titular musician in the Coen Brothers' magnificent, Inside Llewyn Davis. He then followed that up with the less critically acclaimed In Secret and The Two Faces Of January - both of which lacked the delightful complexity and intrigue of Inside Llewyn Davis, but were still elevated thanks to Oscar Isaac's presence. He is now rounding off his year with A Most Violent Year, which has received rave reviews. In addition to all of that, Isaac also scored his roles in both Star Wars: The Force Awakens and X-Men: Apocalypse in 2014 too. This means that his current cinematic hot-streak is very likely to continue for many more years to come. And since he's one of the most alluring yet mystical acting talents currently working, that is very much a good thing.
Your Daily Blend of Entertainment News