Will A Black Panther Movie Be Announced At Comic-Con? Marvel Exec Drops A Big Hint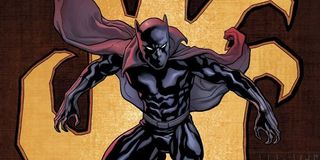 Talk of Marvel finally making a Black Panther movie has been around nearly as long as Marvel has been making their own movies, and since way before movies like The Avengers were big enough to assume Marvel could do whatever they want. There's nothing officially in the works to make the Black Panther movie happen even now, but a lot of fans are hoping that might change at Marvel's Saturday Comic-Con panel… and one of the company's executives just added a lot of fuel to that fire at a different Comic-Con panel.
Marvel's Chief Creative Office Joe Quesada comes to Comic-Con every year for the Cup O' Joe Q&A session, and he answered a very leading question about future Marvel characters with a very intriguing answer. Asked if development of standalone movies for characters like Thor and Captain America would lead to a "minority property" making its way to the screen, Quesada said simply "yes." The intrepid fan clarified, "Like, you think it might happen or it will happen?" and Quesada said, definitively, "It will happen." It takes a whole lot less than that to get crowds at Comic-Con excited, so you know that Quesada knew exactly what he was doing when making a specific promise like that.
So… is it Black Panther? The rumor mill has been spinning pretty quickly on a Black Panther movie lately, with 42 star Chadwick Boseman rumored to be up for the role along with Morris Chestnut, and when Marvel marked off a ton of upcoming release dates-- going all the way up to 2017!-- we started suspecting that one of them might be for Black Panther at last. Sure, Marvel Studios President Kevin Feige hasn't mentioned that character as much as Doctor Strange-- who will almost certainly come up at tomorrow's panel-- but Black Panther is popular enough to be in the running.
We'll be at the Marvel panel tomorrow evening to bring you up-to-the-minute updates about everything that gets announced, and we're still crossing our fingers for a whole bunch of surprises. Will Black Panther be among them? Come back tomorrow to find out!
Your Daily Blend of Entertainment News
Staff Writer at CinemaBlend