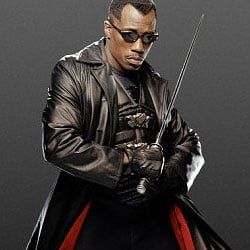 It was back in June of last year that we first heard rumors that the Blade franchise might be resurrected with some sort of Wesley Snipes-free prequel. That went nowhere, Wesley's managed to stay out of prison, and now we're back to talking about a flat out sequel.
JoBlo caught up with Snipes out promoting his new movie Brooklyn's Finest and he tells them that there's been talk of a Blade 4 and that he's interested in returning to the character if the script's right. Of course outside of Brooklyn's Finest, Wesley's been mostly relegated to direct-to-DVD garbage, so it's hard to imagine him turning down anything at this point. The real question here is if anyone making another Blade sequel would actually want him. Snipes is notoriously difficult to work with, so much so that he torpedoed his own franchise, and many of the failures of Blade: Trinity were a result of an uncooperative Wesley.
Too, there's the question of who it is that's talking. Snipes says there's been talk of a fourth Blade. Does that mean he sits around in his living room and talks with his dog about how much he misses playing the daywalker, or does that mean there's some studio out there which legitimately wants to resurrect this mostly dead, and generally troubled franchise? Much as I'd love to see Blade back in theaters, it seems unlikely.
Your Daily Blend of Entertainment News
Thank you for signing up to CinemaBlend. You will receive a verification email shortly.
There was a problem. Please refresh the page and try again.