Pop Quiz! Can You Tell The Real Hollywood Remakes From The Fake Ones?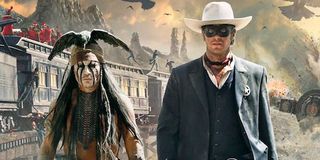 At some point, walking into a theater lobby or clicking through some trailers online, you have definitely said to yourself: "Wait, they're remaking that?" It's a longstanding complaint that there are no new ideas in Hollywood, and getting upset about the amount of remakes and sequels is as useless as yelling about the heat in the summer. But even if you pay attention to what studios are developing and acquiring, like we do, it can be really hard to keep track of just how many ideas are new again. Just when you think you've got a grip on it, you hear the Captain Planet movie is happening, and the world is turned upside down all over again.
This weekend's The Lone Ranger is definitely one of those headscratchers, a classic character from radio dramas and TV serials who has been turned into another kooky Johnny Depp role, with explosions and train chases thrown in to keep the masses entertained. Be honest: if I had told you a year ago that The Lone Ranger was becoming a movie, you wouldn't have known if I was joking. Think you're smarter than that? Then take our remake quiz below, to see just how much attention you've been paying, or how well you can guess which ideas Hollywood knows better than to ever try and remake.
Get out a pen and paper, and write down whether you think these 30 movies are in fact being remade. Click over to the next page to see the answers, with links to prove that we really didn't make up a lot of these. Don't forget to share your scores in the comments!
1. Beauty and the Beast
2. Weird Science
3. The Towering Inferno
4. Annie
5. Trading Places
6. Robocop
7. Grapes of Wrath
8. Vacation
9. Mr. Smith Goes to Washington
10. Oldboy
11. 20,000 Leagues Under the Sea
12. Smokey and the Bandit
13. All About Eve
14. A Star Is Born
15. The Mummy
16. Escape From New York
17. Rebecca
18. A Prophet
19. The Sting
20. Plan 9 from Outer Space
21. Animal House
22. Endless Love
23. Point Break
24. It's A Mad, Mad Mad Mad World
25. The Crow
26. Guys and Dolls
27. An Officer and a Gentleman
28. Poltergeist
29. Carrie
30. Dog Day Afternoon
1. TRUE. Yes, Beauty and the Beast is a fairy tale that's been adapted a million times, but the fact that it's Disney considering the remake puts it in the remake category. Do they really think they can top the 1992 animated version? They're giving it a shot.
2. TRUE. Word of a Weird Science remake broke in April, and with 21 Jump Street writer Michael Bacall on board, it actually sounds more promising than most of these. They're planning to make it an "edgier R-rated comedy." Brace yourself for the inevitable Anthony Michael Hall cameo.
3. FALSE. 1974's disaster film The Towering Inferno was a massive hit, and sits just behind Finding Nemo as the 54th-biggest film of all time when you adjust for inflation. Though the idea of a disaster inside a skyscraper is probably a little distasteful after 9/11, I still wouldn't be surprised to see this actually happen.
4. TRUE. With Beasts of the Southern Wild's Quvenzhane Wallis in the title role and Cameron Diaz newly on board as Miss Hannigan, this updated musical is set for a Christmas release next year. Technically it's based on the original comic strip, but by far the most version of the story is John Huston's 1980 film.
5. FALSE. This 1983 comedy starring Eddie Murphy is a straight-up classic that should never be touched, but come on-- you're just waiting for them to announce a remake anyway, right?
6. TRUE. Even with some bad buzz behind it and the mystifying decision to shoot in Toronto instead of Detroit, this upcoming remake at least has some promise with the casting of Michael Keaton as the bad guy, and up-and-comer Joel Kinnaman in the suit. It's coming out February 7, 2014.
7. TRUE. News about this one broke just yesterday. No, we don't know what Spielberg is thinking either.
8. TRUE. Well, true for now at least. Christina Applegate and Ed Helms are set to star in the remake of the National Lampoon 1983 classic, but a dispute over the rating within the studio has it delayed for the moment. Helms would be playing the Griswolds' son Rusty all grown up, and Chevy Chase and Beverly D'Angelo are set to cameo in their original roles. But if the studio still can't decide itself what it wants the rating to be, we might be waiting for this one a while yet.
9. FALSE. Given how many filibusters have made headlines lately, and been compared to this Frank Capra classic, you'd think that a remake wouldn't be far behind. But Mr. Smith seems a little too optimistic for modern politics, don't you think?
10. TRUE. We're dying to see what Spike Lee does with Chan-wook Park's mega-violent Korean original, especially with Sharlto Copley, Elizabeth Olsen and Josh Brolin in the major roles. It's set for release this October, and we're expecting to get a look at it at Comic Con in a few weeks as well.
11. TRUE. A seemingly endless stream of directors have attempted to do another adaptation of Jules Verne's novel (the first and most famous came out in 1954, starring Kirk Douglas and James Mason), and David Fincher seemed really close to making it happen until production hit another delay in May, with Brad Pitt balking at taking the lead role. But Australia has ponied up a ton of money in tax breaks to make it happen, and Disney promises they'll start shooting in 2014.
12. FALSE. Even though Eastbound and Down paid homage by naming itself after the theme song, Smokey and the Bandit seems to still be a relic of another time, or maybe there's just nobody bold enough to try and step into Burt Reynolds' shoes. Yet.
13. FALSE. It's possible that All About Eve is one of those movies that just never needs to be remade, given how much it's influenced everything that's come since then (see Mad Men's Bob Benson as just one recent example). But if you found enough great actresses willing to chew the scenery, and one willing to step up to the Bette Davis plate, this is a story that could easily get remade. Just wait and see.
14. TRUE. A Star Is Born is one of the most frequently remade films in Hollywood as it is, with three versions already out there and another one kicking around for years now, most recently with Clint Eastwood directing. Beyonce recently dropped out of the lead role, though, which has us less excited… and wondering if it will get off the ground after all.
15. TRUE. The Brendan Fraser-led series was already a remake in itself, but since that franchise fizzled out in 2008, Universal is attempting to start over again, with two new writers brought on board earlier this year. They're not just any writers either-- Billy Ray was behind The Hunger Games, while Jon Spaihts did Prometheus. They still have to convince us to forget Brendan Fraser, though, which is no small feat.
16. TRUE. Yes, seriously. Despite the generally unremarkable remake of The Thing from 2011, another John Carpenter classic is on its way to the remake floor, with Tom Hardy or Jason Statham possibly up to step into the role originated by Kurt Russell. Those two are pretty much the only people who could get us interested in this… but it still seems like a huge gamble, to mess with something so beloved.
17. TRUE. Somehow the only film by Alfred Hitchcock to ever win Best Picture really is getting the remake treatment, with Danish A Royal Affair director Nikolaj Arcel hired to direct back in March. Actors bold enough to play roles originated by Joan Fontaine and Sir Laurence Olivier have not yet been found.
18. TRUE. Jacques Audiard's French-language tale of crime and redemption is a little too recent to be considered a classic-- it was nominated for the Best Foreign Language Film Oscar in 2010-- but it's headed for a remake anyway at the hands of Sony. Producer Neal Moritz promises he has the trust of Audiard, but he doesn't yet have a director or cast.
19. FALSE. Some things are apparently still sacred-- The Sting is a Best Picture winner, a giant financial hit, and not anywhere close to being remade. Somewhere, Paul Newman is saying "thank you."
20. TRUE. Yes, really-- Ed Wood's film, often called the worst movie ever made, has been remade by a guy who wants to take away the campiness and make it edgy and grittier. It's impressive to see something that's a worst idea than the original Plan 9, at least.
21. FALSE. Sure, we're still living in a world full of its knockoffs, from 21 and Over to half the jokes in Monsters University, but Animal House itself seems safe for now.
22. TRUE. This is one of those remakes that not too many people will object to. The 1981 original, with Brooke Shields and Martin Hewitt, was a modest success, and the currently filming remake starring Alex Pettyfer and Gabriella Wilde seems headed for the same fate. It comes out Valentine's Day of next year, if you're interested.
23. TRUE. Sigh. Yes. It's really happening. Sorry for disturbing your eternal rest, Patrick Swayze.
24. FALSE. Throwing a bunch of people into a chase film comedy sounds like an infinitely remake-able idea, and they kind of did it with 2001's Rat Race. But the proper Hollywood remake still isn't happening, though you can always check out the 2007 Bollywood remake if you're curious.
25. TRUE. Because no comic book character can be left to rest, The Crow is on its way back to the screen, with Luke Evans finally set in the lead role, and the comic's creator officially lending his support. They're planning a presence at Comic Con if you want to scope it out for yourself.
26. TRUE. The original Guys and Dolls is a Broadway musical, but the 1955 movie version starring Frank Sinatra and Marlon Brandon is pretty damn famous, and Channing Tatum and Joseph Gordon-Levitt have a serious legacy to live up to if they wind up taking roles in the planned remake, which Fox is developing.
27. FALSE. This 1982 drama/romance isn't quite as revered as lot of other films from that period of the 80s, but it was a massive hit, and you'd think a remake would work just as well in present-day as it did then. Did we just give them an idea? We demand 10% of the profits if this actually happens.
28. TRUE. Even Steven Spielberg-produced classics isn't immune from the remake mania. Plans for this remake are finally shaping up, with casting beginning now and Monster House-- another Spielberg-shepherded project-- director Gil Kenan on board to direct. Haunted house stories never go out of style, we suppose… but will they replace the static-filled TV with a computer screen showing the Twitter fail whale?
29. TRUE. Oh yes, it's happening. There are posters and trailers and everything, and Chloe Moretz seems to be doing her damnedest to live up to Sissy Spacek's mesmerizing original performance. It's set for an October 18 release this year.
30. FALSE. Sidney Lumet's 1975 Best Picture nominee feels remarkably modern, even though the Brooklyn it's set in barely exists any more and the gay relationship at the center-- Al Pacino is robbing a bank to pay for his partner's (Chris Sarandon) sex change operation-- is a little old-school. But anyone who thought about remaking this one stopped themselves about four seconds into that thought. Thank God for small favors.
Your Daily Blend of Entertainment News
Staff Writer at CinemaBlend