The Blunt Reason Sienna Miller Was Cut Out Of Johnny Depp's Black Mass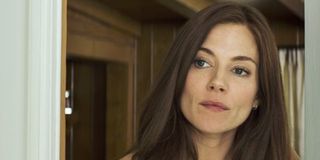 Sienna Miller spent 2014 playing the wives of men who met tragic ends in American Sniper and Foxcatcher. While 2015 will see her star in more eclectic roles, she did film one part that was eerily similar to her efforts in the aforementioned flicks. In Black Mass, she was due to portray Catherine Greig, the girlfriend to famed Boston gangster Whitey Bulger, but it's been confirmed that we won't actually get to see her work, after director Scott Cooper revealed that she has been cut out of the film.
Speaking to The Boston Globe, Cooper admitted that it was a horrific decision to edit Catherine Greig out of Black Mass, insisting that Miller was "fantastic." However, ultimately a decision had to be made to suit the finished film, and in order to make Black Mass as impressive as possible, her scenes were cut. Cooper explained:
Cooper went on to add that Black Mass revolves more around Whitey Bulger's life before he left Boston. After looking over the finished footage for Black Mass, Cooper decided that the gangster's life on the run as a fugitive, which is when he met Catherine Greig, were "less dramatic," and, thus, would be left on the editing room floor.
Which is a shame for Miller, because she previously admitted that she went above and beyond to try and perfect her performance. She was actually spotted shooting scenes as Catherine Greig in Quincy last summer, but to perfect the strong Boston accent that was required, she had to work alongside a dialect coach.
In fact, Miller admitted that before then her attempts to replicate the regional accent "sounded stupid," and she found herself repeatedly watching movies like Good Will Hunting, Gone Baby Gone, and The Town to try and mimic the South Boston voice. Hopefully, we'll get to see if she managed to succeed wth her efforts when Black Mass is eventually released on DVD, but as the anticipated gangster biopic hasn't even hit cinemas yet, we probably shouldn't jump too far ahead. Watch the trailer below:
There's quite a lot of hype surrounding Black Mass. Johnny Depp stars as James "Whitey" Bulger, the boss of the Boston Irish mob, The Winter Hill Gang, who was also an informant for the FBI at the same time as running the gangster outfit. Depp's performance looks scintillating in trailers, and he's also joined by an all-star ensemble cast that includes Joel Edgerton, Benedict Cumberbatch, Dakota Johnson, Kevin Bacon, Peter Sarsgaard, and Corey Stoll, to name but a few. But not Sienna Miller. Black Mass will be released on September 18, 2015.
Your Daily Blend of Entertainment News
Thank you for signing up to CinemaBlend. You will receive a verification email shortly.
There was a problem. Please refresh the page and try again.