Johnny Depp Brings Terror To The Neighborhood In Full Black Mass Trailer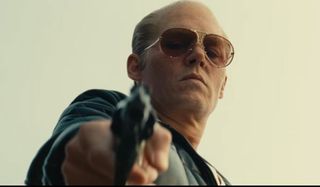 It's certainly been awhile since we've gotten a worthy Johnny Depp performance. And with his last film Mortdecai embarrassingly tanking, it's about damn time the critically acclaimed actor step up his game. And what better way to do so then by playing a terrifyingly badass Boston gangster. Watch as Depp brings terror to his neighborhood in the latest trailer for Black Mass.
Johnny Depp's crazy new look is something of terrible nightmares, but on top of that, the character he is portraying is one of the most notorious Boston gangsters to ever live. The craziest thing about this character though, is that he seems like an alright guy. He was beloved by the people of his neighborhood, as you can see by the older woman welcoming him back. Despite his ruthless nature, Whitey was viewed as an almost Robin Hood figure, protecting and serving his neighborhood. But, when you get away with killing people in broad daylight, there's something wrong with the situation.
The trailer starts with Depp's Whitey Bulger sitting down for a nice family dinner. In the last trailer, we saw Whitey sitting around the dinner table in a different environment, but still spitting some scary wisdom. Whitey tells his son this time around:
Just let that soak in for a second. Damn, Depp. Now that's the stuff we've been missing. Black Mass looks like it's about to pick up the pieces to Depp's broken down career by showcasing the actor's strengths. So far, the trailers have portrayed a ruthless and a bit creepy man who always knows exactly what to say. With the consistent monologues throughout in that soft, sadistic tone, Depp is about to help us remember why he is an Academy Award-nominated actor.
Everyone loves a good gangster movie, and with the trailer ranging from time with the family, to one-on-one gun fights, it seems to be covering all of the important ground. Black Mass will follow Johnny Depp's Whitey Bulger over the course of several decades as him and his family find themselves in the middle of one of the biggest FBI scandals of all time. The film has a powerhouse cast including Benedict Cumberbatch as Whitey's brother, Bill Bulger, Joel Edgerton as FBI Agent John Connolly, Kevin Bacon, Dakota Johnson, Juno Temple, Adam Scott, Corey Stoll, Peter Sarsgaard and more. Depp and director Scott Cooper did extensive research on Whitey Bulger to capture the character as true to life as possible, so it's bound to be an incredibly detailed documentation. Black Mass is scheduled to hit theaters September 18.
Your Daily Blend of Entertainment News
Your Daily Blend of Entertainment News
Thank you for signing up to CinemaBlend. You will receive a verification email shortly.
There was a problem. Please refresh the page and try again.