Blurred Lines Model Lands Key Role In Gone Girl Opposite Ben Affleck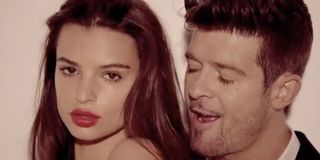 From Neil Patrick Harris to Tyler Perry, Rosamund Pike and Ben Affleck, David Fincher's been pulling some pretty surprising casting moves in his adaptation of Gillian Flynn's wildly popular (and downright addictive) crime novel Gone Girl. But the latest announcement is the most surprising yet. The Wrap unveiled that model/actress Emily Ratajkowski, best known for her revealing work in Robin Thicke's "Blurred Lines' video, is currently in talks for a key role in the thriller. Details and spoilers for Gone Girl are below.
Gone Girl centers on the complicated story of what's become of Amy Dunne, who went missing on her wedding anniversary. As often does in such cases, suspicion immediately falls on her husband. But in Flynn's fascinating novel, each chapter peels away a new layer of this missing person puzzle until we learn nothing is what it seems. Ben Affleck is set to star as Amy's shady husband, Nick Dunne. Rosamund Pike will play his seemingly perfect wife. Tyler Perry will play Nick's headline-loving lawyer, while Neil Patrick Harris will play Amy's ex-boyfriend who has never quite gotten over their time together. Also on board are Kim Dickens and Patrick Fugit as the local cops assigned to this confusing case, and Carrie Coon as Nick's deeply loyal but oft-needy twin sister Margot.
To tell what part Ratajkowski is up for is a definite spoiler, so if you haven't read the novel, I'd say you should skip to the next paragraph. Now. Should she sign on, the gorgeous ingénue would be playing Nick's secret mistress, Andie. In the book, this character's reveal is a major blow to Nick's credibility and insistence he did his wife no harm. Andie—aside from being a college co-ed who is deeply in love with Nick—is also potential proof of motive. And while her scenes in the book are few, each is crucial to its tricky plot.
Even if the contract demanded she pay the studio to be a part of the film, Ratajkowski would be mad not to sign on the dotted line. While she's been modeling professionally since 14, her acting career hasn't yet taken off. To date she's made appearances on two television series, New Girl and iCarly, and a small role in a little-known drama called A Year and a Day. As this is an A-lister vehicle directed by a respected auteur whose been twice nominated for the Academy Award, actresses nationwide have doubtlessly been fighting tooth and nail for any part in it. And this one is particularly juicy. It seems all that controversy over Thicke's gaudy video wasn't only beneficial for him after all.
So here it is once more for the cheap seats. The summer song that won't go away...
Your Daily Blend of Entertainment News
Staff writer at CinemaBlend.