David Fincher's Gone Girl Eyes Rosamund Pike For Lead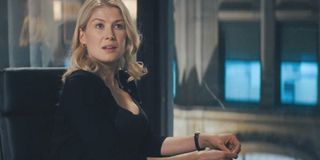 Every actress in Hollywood ought to be beating down David Fincher's door to try to snag the lead role in his next film Gone Girl, and it looks like one of them has finally made it through. THR reports that Rosamund Pike is the director's choice to star in the film, an adaptation of Gillian Flynn's breakout hit novel that Flynn is adapting herself. Ben Affleck hopped on board last week to play the male lead, but the trickiest part by far belongs to the titular girl Amy, the thirty-something wife to Affleck's Nick who goes suddenly missing.
Though it takes sharp aim at our culture of obsessing over pretty white women who go missing and whose husbands are suspected of foul play (think Laci Peterson), Gone Girl is not about your average missing girl-- though it wants you to think so at first. At the beginning of the book we meet Nick as he is realizing that his wife is missing and processing the many ways in which it looks like he's to blame; at the same time we read chapters from Amy's diary, starting when she and Nick first meet in New York and leading to their move to Nick's hometown in Missouri, both to help take care of his ailing mother and to cope with a market for journalists that has completely fallen apart. We read about Nick's befuddlement when Amy goes missing, while at the same time seeing diary entries that document their failing relationship. And then… the book changes entirely.
Of course I'm not going to tell you how it changes, except to say that the character of Amy is a whole lot more complicated than the innocent victim whose husband wants her out of the picture. And that could make for a really, really interesting role for Pike, an actress far less famous than most of the names we've been hearing-- Emily Blunt, Natalie Portman and Charlize Theron were supposedly in the running, while Reese Witherspoon is producing but won't star. Fincher has proven in the past that he's not blinded by celebrity when picking actresses for a high-profile role, selecting Rooney Mara to play Lisbeth Salander in The Girl With The Dragon Tattoo over the likes of Portman and Scarlett Johansson. And casting a lesser known actress as Amy could be crucial, allowing Pike-- or anyone who winds up cast-- to introduce to the audience to Amy without the weight of star expectations on her.
And Pike, who has been quietly stellar in everything from An Education to Jack Reacher, could be a fascinating choice for the role. She's got a natural refined chill to her, perfect for playing born rich-girl Amy, but is also capable of letting loose and playing a ditz like her An Education character. Who knows how she'll work opposite Affleck-- or even how much screen time the two will share, given the way the story unfolds-- but any actress who can hold her own against a charisma magnet like Tom Cruise ought to be just fine. Pike is an unexpected but oddly perfect pick for the role, and as Gone Girl gears up to start production in the fall, hopefully they can get her locked in and on her way toward joining Affleck in cinema's worst-- but most fascinating-- marriage.
Your Daily Blend of Entertainment News
Staff Writer at CinemaBlend