Ben Affleck Up For Lead In David Fincher's Gone Girl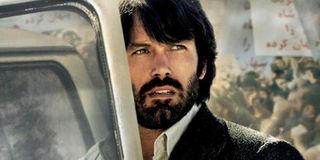 Ben Affleck-- newly minted Oscar winner, excellent beard-wearer-- is on top of the world, and is now choosing to enter into what ought to be the worst cinematic marriage since Who's Afraid Of Virginia Woolf? Variety reports that Affleck is now the top choice to star in Gone Girl, the adaptation of Gillian Flynn's huge hit novel that David Fincher is planning to direct. Now that 20,000 Leagues Under the Sea is back on hold, Fincher is apparently moving quickly to make Gone Girl his next project, and is aiming to start production on the film in the fall.
The biggest hurdle to making it all happen is apparently Affleck's own directing schedule, which as you can imagine is plenty busy after the massive success of Argo. He had been planning to start production this year on Live By Night, another adaptation of a novel by Dennis Lehane, who also wrote the book that inspired Mystic River and Affleck's own directorial debut Gone Baby Gone. But apparently he wants to do Gone Girl so badly that he's trying to arrange pushing Live By Night to a January start, allowing him and Fincher to dive deep into the twisty Gone Girl this fall.
If you've read the book-- and many millions of you have-- you're likely dying to know who will be playing Amy, the titular "gone" girl who goes missing, and whose husband Nick (Affleck's character) becomes the prime suspect in her disappearance. Reese Witherspoon has been attached to produce the film since even before David Fincher was on board to direct, but it's been unclear all along if she'd be interested in starring. I would say the actress might be interested in shedding her goody two-shoes reputation and playing a genuinely dark character, but after that famous arrest, she might be rethinking that particular change of pace. (UPDATE: The Wrap writers that Natalie Portman, Emily Blunt and Charlize Theron are being considered for the role of Amy)
As for Affleck, though, my initial, said-out-loud reaction of "Whaaaaaaaaaat?" has quickly turned into some serious excitement. The book Gone Girl is split between the husband and wife's point of view, with the reader getting a picture of a broken marriage from both Nick-- a lifelong "good guy" who seems in over his head after a failing economy forces him to move back home to Missouri-- and Amy, whose diary entries present a girl married to a man increasingly turning dark and unreliable. A twist midway through the book turns all that on its head, and though it's really hard to imagine how they'll translate it to the screen, Affleck remains an excellent choice for Nick, a hero of sorts who you also want to slap around a few times throughout the book. I didn't know if we'd see Affleck taking on a lot of challenging acting roles now that his work as a director is so prized, but Gone Girl ought to be a challenge that's worth it. Especially if they can find the right Amy to face off against him.
Your Daily Blend of Entertainment News
Staff Writer at CinemaBlend