High-Tech, Interactive Movie Theaters Could Be Open By 2017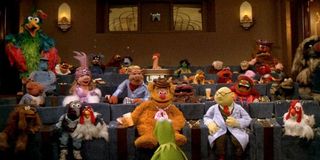 Movie theaters are about to get an interactive makeover. Texas-headquartered theater company ReelXperience Entertainment wants to change the way we all watch and experience our movies by making them more high-tech and interactive. Can you imagine going to the movies to see something like The Avengers: Age of Ultron in an interactive experience? Imagine it, because ReelXperience plans on giving movie theaters an interactive makeover by 2017.
According to The Hollywood Reporter, startup movie company ReelXperience Entertainment recently revealed plans to create a high-tech interactive movie experience for moviegoers by 2017 at the CinemaCon confab. The new concept is geared towards giving patrons a "theme park-like movie experience," an idea that is sure to not only increase patronage but will also make going to the movies more exciting. The new cinema concept was in response to a call for ideas on how to draw more patrons to theaters.
The stand alone ReelXperience high-tech theaters will feature two types of interactive experiences starting around $60. The first experience will provide patrons with the opportunity to dine in a movie-themed environment while viewing a movie on a 360-degree screen. That gives a whole new meaning to Dolby Digital Surround Sound. The kicker is that moviegoers will also get the chance to interact with actors, in character, which will no doubt enhance their movie-going experience. The second experience has a bit more of an exploration aspect to it, presumably involving the use of props and staging to enhance the patron's experience. Audiences will get to view a movie, then step onto a set that would basically give them the opportunity to experience aspects of the movie for themselves. But that's not all the startup wants to do. ReelXperience also wants to offer smaller theaters for patrons to view new or classic movies as well as host viewings of live events, like sports. Sounds like a winner, wouldn't you agree?
Before plans can move forward, however, the Texas-headquartered theater company will need to partner up with movie studios in order to offer the content, which shouldn't be too much trouble for the startup with the big idea. After all, the movie studios stand to benefit just as much as ReelXperience theaters with a concept like this, right? More traffic to the theaters leads to more tickets sold. Everybody wins... especially the patron.
ReelXperience Entertainment plans to initiate the roll out of their high-tech interactive theaters in the U.S. first, starting with major cities like Dallas and Las Vegas, before expanding the concept internationally. And, if all goes well, moviegoers could see their local theaters adapting this high-tech interactive concept in their own way, ultimately taking the movie-going experience into a new era.
Your Daily Blend of Entertainment News
Your Daily Blend of Entertainment News
Thank you for signing up to CinemaBlend. You will receive a verification email shortly.
There was a problem. Please refresh the page and try again.