Bourne Legacy Teaser Poster Underwhelms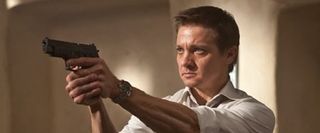 There's a lot riding on The Bourne Legacy. The franchise turned Matt Damon into a certified action star and gave us a modern spy hero before Bond got his Casino Royale makeover. But, to continue the Bond comparisons for a moment, now their lead has decided to move on to other things, so what's a spy franchise to do? Recast, of course. Given how fast Jeremy Renner's star is rising, he'll probably be a great pick to take over the Bourne-less Bourne films. While Paul Greengrass is gone, longtime franchise writer Tony Gilroy is settling into the director's chair. All in all, Jason Bourne's legacy looks to be in good hands. But what can we actually expect from next summer's Bourne expansion? Well, I hope you weren't hoping for any hints from the newly released teaser poster...
IMAGE REMOVED BY STUDIO REQUEST-- NOT AN AUTHORIZED POSTER
The poster popped up on the Argentinean movie website Cine1. It was posted without any explanatory text, which is just as well, since I can't read Spanish. The "Prepare for the Unexpected" slogan is about as generic as it gets, and not particularly helpful. I'm guessing the odd designs in the background may be hinting at something, but damned if I can figure out what. What more is there to say? Nice font, I guess?
The Bourne Legacy opens in theaters on August 3rd. You can read more about it in our Blend Film Database.
Your Daily Blend of Entertainment News
Your Daily Blend of Entertainment News
Thank you for signing up to CinemaBlend. You will receive a verification email shortly.
There was a problem. Please refresh the page and try again.