Brad Bird's Tomorrowland Unveils Plotline As Production Starts In Vancouver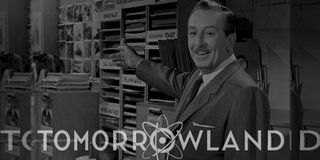 When it comes to his next feature Tomorrowland, writer-director Brad Bird has been playing his cards so close to his chest that he's been driving us a bit insane. We know that mysterious movie co-written by Bird and Damon Lindelof is inspired by a box labeled '1952' that's said to have held a bunch of Walt Disney's brewing concepts for rides and stories. But what does that mean? With Disney Studios finally rolling into production on Tomorrowland, we've at long last been given some insight. The press release announcing principal photography for the "mystery adventure" has begun in Vancouver also includes this curious logline:
Hm. That didn't exactly clear much up, did it?
Well, let's try to break it down by looping in previous casting notices. First off, George Clooney was attached to the project as a brilliant inventor known as Frank Walker. So presumably he'll play the former boy-genius mentioned above. Under The Dome star Britt Robertson was recently wrangled to play a high schooler named Casey Newton who has been described as having "an unconventional understanding of technology." While its still unclear what the quest these two will share is all about, we have heard it will involve a child robot called Athena. Played by Raffey Cassidy who recently appeared opposite Jeremy Piven in the dramatic period piece series Mr Selfridge, Athena is expected to be a creation of Walker's and is described as skilled fighter. This will presumably come in handy against the unknown villain named David Nix, played by Hugh Laurie. Also on board in a currently unspecified part is young Thomas Robinson, who mad his film debut in the 2010 comedy The Switch.
Because it's Bird who has brought us such extraordinary cinema as The Incredibles, Ratatouille and Mission: Impossible – Ghost Protocol, we expect Tomorrowland to be something jaw-droppingly outstanding. And Bird has helped assure this high standard by bringing on some seriously celebrated craftsmen to his crew. Claudio Miranda, who last winter won the Academy Award for Best Achievement in Cinematography for Life of Pi, will be Tomorrowland's director of photography. Based on his past credits on Star Trek, Star Trek Into Darkness and Cowboys & Aliens, production designer Scott Chambliss is sure to give this science-fiction feature a distinctive world.
Academy Award-nominated and BAFTA Award-winning costume designer Jeffrey Kurland (Bullets Over Broadway, Radio Days) has shown a fantastic flare for costuming in old school styles. (Could this be a tip to Tomorrowland's setting?) And finally, Bird brought legendary editor Walter Murch on board. Not only does Murch boast the distinction of nine Academy Award nominations (six for editing, three for sound editing), but also he won three of these (two for 1996's The English Patient, the other for Apocalypse Now's sound design). And in 1980 he was nominated against himself when Ghost and The Godfather Part III faced off against each other in the best editing category. Add to this noteworthy crew Bird and Lindelof's wild imaginations, and Tomorrowland seem sure to be a dominating force when it opens on December 12th of 2014.
Yeesh, that's a ways away. Thankfully in the mean time you can learn a bit about what Bird and Lindelof found in the 1952 box in Eric's rundown of the movie's D23 presentation. Or you can check out the special Tomorrowland app that gives fans a special tour of the box.
Your Daily Blend of Entertainment News
Staff writer at CinemaBlend.