Brad Pitt And Angelina Jolie's Marriage Crumbles In Haunting By The Sea Trailer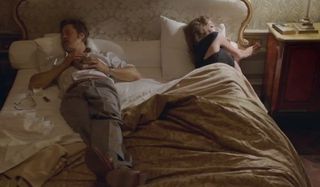 Because Angelina Jolie and Brad Pitt are two of the most famous actors in the world and also a couple, over the years speculation has repeatedly swirled that their relationship has been on the brink of collapse. Of course, that's never actually proved to be the case - but the trailer for By The Sea proves that Jolie and Pitt are able to act as if their marriage is crumbling, and at the same time it looks like it could be Jolie's most mature work to date as a director.
Looks like pretty serious, and dare I say it, compelling stuff. Not only is Angelina Jolie starring alongside her husband Brad Pitt in By The Sea, but she also wrote and directed the drama too. And I have to admit that this first glimpse of the film certainly made it look intriguing, with Pitt oozing his usual nonchalant charisma while Jolie looks as if she has to go through hell in the role.
Angelina Jolie actually wrote the script for this film several years ago. By The Sea is a period piece set in 1970s France and centers on Vanessa, a former dancer, and her husband Roland, an American writer. They have been traveling the country for a long time and there is a significant strain on their relationship, but things start to change when they meet the locals of a small seaside town.
You couldn't really get a sense of the film's period from the trailer (opens in new tab), its luscious, sun drenched, picturesque setting certainly looks as if it will play a key part in the film's potential success. There was also a brooding quality to it that suggests this could be Jolie's subtlest, and least melodramatic project to date.
By The Sea will also see Jolie and Pitt joined by Melanie Laurent (Inglorious Basterds) and Niels Arestrup (A Prophet, War Horse), which means that the screen should constantly be filled with prestigious acting talent. Of course, the fact that it stars Pitt and Jolie in the leading roles, while Jolie has also directed Pitt, means that gossips will be looking for any excuse to find a hidden meaning, or write a sensationalist angle on how By The Sea actually reflects their marriage.
Hopefully though, By The Sea will be judged on its own merits. From the look of its first trailer, it could be a sneaky late contender for one of the films of the year. By The Sea will be released on November 13th.
Your Daily Blend of Entertainment News