Brad Pitt Finally Plays Gay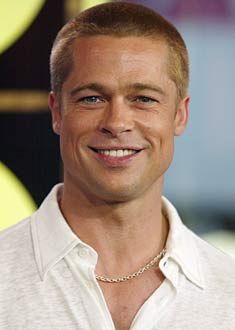 After the buzz over the wonderful film Brokeback Mountain, Brad Pitt said recently that he would love to add a gay character to his resume. Because he feels it would be an illuminating experience for his acting soul? Probably not. But he already has Angelina on his arm, and now he desperately wants an Oscar addition to his mantel. The man wants it all.
According to the gossipy Hollywood rumor mill, Pitt may have found the project of his desire in The Front Runner, a novel by Patricia Nell Warren. The story is about the love affair between a male track coach and his head male team member. Nothing is confirmed yet, but all signs are pointing in that direction.
"Brad knows it would be seen as shocking to take on a gay role because he's seen as such a heart-throb. But he has never shied away from taking on controversial films, and he has often chosen to do smaller, more challenging movies" said a movie insider. The timing is a bit coincidental, wouldn't you say? Now I am all for actors taking on challenging roles because they stumble upon something they find exciting, but as a source previously told the Sun Newspaper, " Brad has asked his people to find him a script to play a gay man". That just screams of being a tool and begging for awards and acclaim. Didn't this guy used to be cool, once upon a time?
In other news, Warner Bros has acquired the rights to a sci-fi book called The Sparrow, for Pitt's Plan B company to produce with Industry Entertainment. The story is about a Jesuit priest who joins a crew of space travelers to a distant planet after Earth encounters an alien welcoming. Pitt may choose to take the lead, if it proves award-worthy enough for him.
Your Daily Blend of Entertainment News