Bradley Cooper, Jeremy Renner & Amy Adams All Confirmed For David O. Russell's Next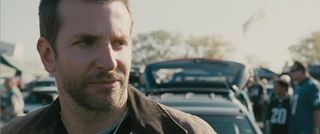 Over the weekend I caught up with Silver Linings Playbook, the new film from director David O. Russell that's been earning buckets of Oscar buzz ever since it premiered at the Toronto Film Festival in September and ran away with the Audience Award. It's hard to go into a movie with that much hype, but it really earns it, telling a human-sized, funny and dark but deeply affecting story, with such killer performances from Jennifer Lawrence and Bradley Cooper that you'll probably never underestimate them as "that girl from The Hunger Games" and "that guy from The Hangover" again.
Between this and The Fighter Russell is clearly on a hot streak, miles away from the days when he was making movies that never got finished or going viral with on-set screaming matches. And with Silver Linings headed to theaters Russell is putting together his next project, which might be the starriest he's made since I Heart Huckabees. A press release has confirmed that Bradley Cooper, Jeremy Renner and Amy Adams will all be joining the already-cast Christian Bale in Russell's next project, tentatively set for release late next year and once upon a time titled American Bullshit. Here's the synopsis included in the press release:
Everyone in the cast but Renner is reuniting with Russell for the film, and after this Oscar season it's likely all but Renner will have been Oscar-nominated for their work with Russell in the past. Obviously there's a ton of firepower in the cast, and while the story sounds a little bit bigger than both The Fighter and Silver Linings, the Camden, New Jersey setting suggests that it will carry some of the same blue-collar texture that's made Russell's recent films so satisfying. When you see Silver Linings Playbook, hopefully you'll be as excited to see what Russell does next as I am.
Staff Writer at CinemaBlend
Your Daily Blend of Entertainment News
Thank you for signing up to CinemaBlend. You will receive a verification email shortly.
There was a problem. Please refresh the page and try again.