Bradley Cooper, Jeremy Renner Eyed To Replace Eminem In Boxing Drama Southpaw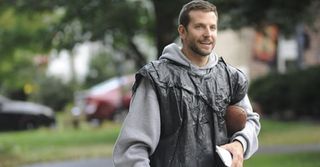 It's been more than a decade since Eminem's one and only starring role in 8 Mile, and you would be fair to assume his acting career had begun and ended right there. But the erstwhile Marshall Mathers was in the running for years to play the lead role in Antoine Fuqua's boxing drama Southpaw, which, like so many other projects, wound up languishing in development. Now the project has been picked up by the Weinstein Company, and though Eminem isn't technically out of the running, he may be on the verge of being replaced by some of the biggest starts out there.
Talking to Shadow and Act, Fuqua said that he plans for Southpaw to be his next project, after the release of this spring's Olympus Has Fallen. He also said that Eminem is still part of the film-- presumably as a producer or consultant-- but may or may not play the lead thanks to scheduling projects. And to replace him, Fuqua is eyeing and starting conversations with pretty much a laundry list of every major up-and-coming actor out there:
It's hard to know how serious any of these talks are, and the fact that Fuqua simply rattles these names off suggests that there are no actual talks happening-- this is more of a wish list than anything else. And it's also unclear how starry a cast Fuqua can actually muster. His Olympus Has Fallen, with Gerard Butler and Aaron Eckhart in the major roles, is clearly the second-tier version of this summer's White House Down, starring Channing Tatum and Jamie Foxx. But if Fuqua is hoping to drop these names in order to drum up buzz and get the attention of even more A-listers… well, he's succeeded. Well played, sir.
Staff Writer at CinemaBlend
Your Daily Blend of Entertainment News
Thank you for signing up to CinemaBlend. You will receive a verification email shortly.
There was a problem. Please refresh the page and try again.