Bradley Cooper To Romance Emma Stone In Cameron Crowe's Next Movie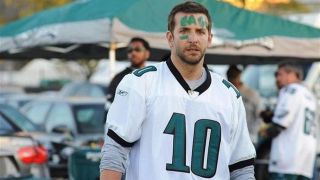 (Image credit: The Weinstein Company)
You may still think of Bradley Cooper as the handsome, possibly douchey guy who's starred in the Hangover movies and unsuccessfully tried to get serious with this September's The Words, but he's about to have a serious breakthrough thanks to his role in The Silver Linings Playbook, due out next month. Cooper plays a man recently released from a mental institution, where he was placed after a severely violent outburst; he moves back in with his parents and plots how to win back his wife, an idea that everyone but him thinks is delusional.
Cooper's performance in Silver Linings can probably be partly attributed to director David O. Russell, but if a great director is what it takes to get Cooper to be at his best, he's preparing to make another very good move. Deadline reports that Cameron Crowe has decided he wants Cooper to star opposite Emma Stone in his next film, which is set to shoot next spring. When the project was announced over the summer it was described as "a two-hander," with a tone similar to Almost Famous and Jerry Maguire (and, presumably not that similar to more recent flops Elizabethtown and We Bought A Zoo). The fact that Stone was cast first suggest she's got the meatier part, but Cooper should have plenty to work with as well.
Much as I'm starting to like Cooper, and much as I'm dying to see Crowe work with two actors this talented, I'm not sure what to make of this current trend of Cooper starring opposite much, much younger women. At 37, Cooper is a full 15 years older than his Silver Linings Playbook co-star Jennifer Lawrence (though the age gap is briefly acknowledged in the film), and he's 13 years older than Stone. I'm guessing Crowe's script is also written in a way that acknowledges the serious age gap, but it's one more little knife in the side of actresses who reach their 30s and, for whatever reason, never get the chance to start opposite actors their own age.
Your Daily Blend of Entertainment News
Staff Writer at CinemaBlend