Breaking Dawn: Part 1 Gets A Midnight DVD And Blu-Ray Release In February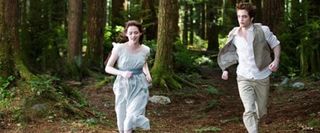 Time is ticking ever closer to the end of the Twilight franchise. The last flick in the series, Breaking Dawn: Part 2, is scheduled for a November release. The release date is a ways away, meaning fans will likely want to review Breaking Dawn: Part 1 to brush up on details before they catch Part 2 in theaters. Luckily, Summit Entertainment is happy to oblige.
Breaking Dawn: Part 1 will hit DVD and Blu-Ray on February 11. The film, which covers Edward (Robert Pattinson) and Bella's (Kristen Stewart) marriage, honeymoon, and subsequent baby-making, will come with some extensive special features. Coverage will include a 6-part "Making of" documentary. A "Wedding video" segment will also be included, as well as "fast forward" featurettes of some of Jacob (Taylor Lautner) and Edward's best scenes. Additionally, commentary from Director Bill Condon will round out the special features.
Likely because the Twilight franchise is often popular with younger audiences, the release is one of the rare times where the Blu-Ray copies are similar to the DVDs in price and content. Both are affordable; DVD copies will come as "Two-Disc Special Edition" copies and will run for $30.49. Blu-Ray copies will also come with the aforementioned extras and will run for $33.99.
The coolest thing about the release is not just that it's happening, but that many venues will be hosting Breaking Dawn: Part 1 midnight release parties. You can check out more information over at Breaking Dawn's site. It seems like the site doesn't have all the venues pinpointed down, yet, but if you are a twihard interested in attending, I would suggest checking back for updates. Copies of the movie can also be pre-ordered there.
Your Daily Blend of Entertainment News
Thank you for signing up to CinemaBlend. You will receive a verification email shortly.
There was a problem. Please refresh the page and try again.