Bridge Of Spies Was Almost Made In 1965, Would Have Starred These Film Icons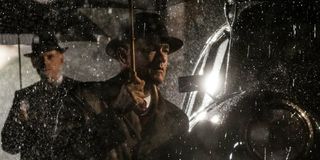 Tom Hanks and Steven Spielberg re-team for Bridge of Spies, about a famous trade-off of captured spies between the Soviets and the United States during the Cold War. While Hanks portrayed James Donovan, the lawyer who facilitated the trade, Mark Rylance played captured Soviet spy Rudolph Abel, Austin Stowell played Gary Powers, and Will Rogers played the American graduate student caught in the crosshairs, Frederic Pryor. As it turns out, though, Spielberg wasn't the first person to try and bring this story to life.
During the press conference for Bridge of Spies during the New York Film Festival, the filmmaker relayed the tale of how Gregory Peck, renowned actor of films like Roman Holiday and To Kill A Mockingbird, tried to get this movie made.
Spielberg said,
Alan Alda, who plays Thomas Waters in the film and was also present for the press conference, asked Steven Spielberg if he knew why MGM didn't move forward with the project. The director replied,
Tom Hanks jokingly chimed in, "And Greg Peck's previous movie was soft at the box office."
Bridge of Spies had its worldwide premiere at the NYFF and received a standing ovation. The film sees Donovan, an insurance lawyer, asked to perform a duty for his country by representing captured Soviet spy Abel in court. Despite outward aggression from the FBI, Donovan's employer, and the American public, Donovan's belief in the Constitution leads him to feel for his client and to keep defending him even after his conviction. However, the situation turns when the U.S. discovers one of their own spies has been captured by the Soviets, and the two powers attempt a trade.
The film also stars Amy Ryan (The Office), Jesse Plemons (Breaking Bad), Billy Magnussen (Into the Woods), Eve Hewson (The Knick), Michael Gaston (The Leftovers), and character actor Dakin Matthews. The film will hit theaters on October 16, and could potentially factor into this Oscar race.
Your Daily Blend of Entertainment News
Thank you for signing up to CinemaBlend. You will receive a verification email shortly.
There was a problem. Please refresh the page and try again.