Kevin Feige Fires Back At Steven Spielberg Over His Superhero Genre Quotes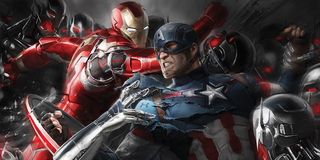 Although superhero movies are more popular than ever, there are some who believe that their time in the spotlight will eventually fade away. Case in point, acclaimed director Steven Spielberg, who early last month said that these types of movies will eventually go the "way of the Western," i.e. have only a finite time before they're overtaken by another genre. While there's no denying Spielberg's knowledge of the film industry, in Marvel Studio president Kevin Feige's mind, the superhero movie genre still has plenty to offer for the foreseeable future.
During the recent Avengers: Age of Ultron Blu-ray release event, IGN asked Feige for his take on Spielberg's comments, prompting the producer to mention how people have been asking him about the lifespan of superhero movies for over a decade. As he put it:
As for the frequent comparisons to superhero movies being the next "Western," Feige noted that while that is a possibility, Westerns stayed popular for 40-50 years, and even nowadays the occasional one still pops up. In the MCU's case, Iron Man was released only seven years ago, and even with superhero movies as a whole, it's only been about 15 years since the genre took off. So even using that Western logic, superhero films may enjoy many more years of popularity before the audience feels any kind of "fatigue."
Feige also addressed the comments recently made by Batman v Superman: Dawn of Justice director Zack Snyder comparing July's Ant-Man to be the "flavor of the month" (which Captain America: Civil War's Sebastian Stan didn't appreciate). Rather than escalate the endless Marvel vs. DC feud, Feige simply acknowledged that both franchises have their differences, which doesn't necessarily make one better than the other. In his words:
Whether you're a Marvel or DC fan, there will be plenty of superhero offerings coming next year. In the first half of 2016 alone, moviegoers can look forward to Captain America: Civil War from Marvel, Batman v Superman: Dawn of Justice from DC and Deadpool and X-Men: Apocalypse from Fox. So comic book fans, get ready for your wallets to feel significantly lighter!
Connoisseur of Marvel, DC, Star Wars, John Wick, MonsterVerse and Doctor Who lore. He's aware he looks like Harry Potter and Clark Kent.
Your Daily Blend of Entertainment News
Thank you for signing up to CinemaBlend. You will receive a verification email shortly.
There was a problem. Please refresh the page and try again.