Caligula Director Pushes Porn Into 3D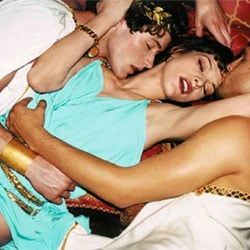 In the past porn has been on the cutting edge of movie technology, but this time they're just hopping on the bandwagon. THR says Tinto Brass, the Italian director who collaborated with Gore Vidal on the infamously erotic roman history Caligula, is planning a new project. This time he's going straight for the money shot… in 3D.
If he pulls it off, it'll be the first ever porn movie done in 3D, assuming porn is actually what Brass is doing. He calls it a "pornographic production" but THR's story then goes on to hint around that this might actually be a remake of Caligula. Apparently Tinto teased the plot of the project by saying he plans to, "revisit an abandoned project about a Roman emperor that was ruined by Americans, and go from there." That's a reference to Caligula which, incidentally, he was mostly unhappy with because more sex was added in. If he's remaking it, it wouldn't make sense to turn it into full-fledged porn.
Whether or not Tinto is the first to pull it off, pornography is moving towards 3D. His film isn't the only erotica headed toward the third dimension. Filmmaker Gasper Noe, known for his brutally graphic films, tells Hollywood Wiretap that he's working on a "joyful porn movie" which will be shot in 3D.
For a taste of what a modern day Caligula might look like, here's a look at the star-studded remake trailer, for a movie that didn't happen, made a few years ago by Gore Vidal. Warning: the following video is absolutely not safe for work:
Your Daily Blend of Entertainment News