Can Whitaker Play Director?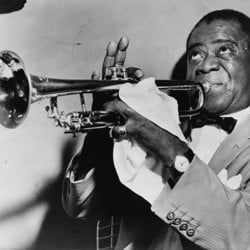 After playing Charles "Bird" Parker in the movie Bird back in 1988, Forrest Whitaker if finally ready to get back into jazz musician mode. He will be starring and directing a biopic of the late Louis Armstrong's life. Although there is no question Whitaker can act, seeing as how he has an Oscar at his house, his directing skills have not quite reached the pitch of critical acclaim.
His past forays into directing include First Daughter, Hope Floats, and (ugh) Waiting to Exhale. I think it's safe to say that his directing skills are questionable. However, the executor of Armstrong's estate, Oscar Cohen, seems to trust his vision, so that's comforting.
Variety reports that Cohen has given permission for this picture and will allow filmmakers full access to Armstrong's more personal effects, such as old letters, interviews, and anything else pertinent that they can dig up in the Armstrong files. Cohen, who worked as Armstrong's road manager in the '40s, will also serve as the executive producer of the flick.
A la Ray, the movie will start out with the jazz trumpet player's childhood in New Orleans and chronicle his rise to fantastical musical success, and end with his death in 1971. So, basically, we'll see the full Louis Armstrong, start to finish. The movie, titled What a Wonderful World, will be filmed in Armstrong's home state of Louisiana.
The movie players consist of: Ron Bass on writing, with Alain Goldman and Edward R. Pressman producing under Cohen as executive producer. What a Wonderful World has been picked up by the same French company that produced last years critically acclaimed Edith Pilaf feature, La Vie en Rose, Legende.
Whitaker tells Variety, "Armstrong left a monumental mark on our lives and our culture. He lived an amazing life and, through his art, shifted the way music was played and would be heard after him, not just here in the U.S. but all over the world." Sounds like Whitaker has the passion needed to make this pivotal piece, the first about Armstrong. If he can pull some great directing out of his ass, we could have something magical in theaters a few years from now.
As far as acting goes, Whitaker has wrapped on Repossession Mambo, Hurricane Season, and Powder Blue.
Your Daily Blend of Entertainment News
Thank you for signing up to CinemaBlend. You will receive a verification email shortly.
There was a problem. Please refresh the page and try again.