Captain America: Civil War Photo Gives Us Our First Look At Baron Zemo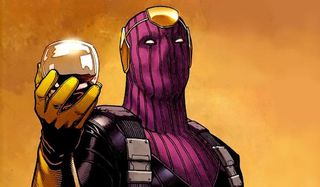 With most of the Captain America: Civil War attention dedicated towards the protagonists feuding, there's barely been any news regarding its main antagonist, Baron Helmut Zemo. Few details have been released about this iteration of the character, and he hasn't been seen in any photos or previews…well, until today. Here we have our first look at Daniel Brühl as the MCU's Zemo, seen at the bottom of the tweet.
Rather than wear his trademark purple mask, this Zemo will be dressed like in ordinary clothing in Captain America: Civil War, though that look he's giving just screams threatening. The article itself describes him as a "mysterious, manipulative figure" who is positioning the heroes into fighting with each other. Unfortunately, EW didn't provide any specific details about Zemo in the movie so as not to spoil anything, but here's what co-director Joe Russo had to say about him:
Along with the lack of a purple mask, Brühl's Zemo has been described as a loose interpretation of his comic book counterpart, but it's still hard to deduce what he's up to in Captain America: Civil War. Since he's subtly pitting the heroes against each other, we can guess that he's somehow involved with either the passing of the Sokovia Accords or the political maneuvering afterwards that leads to the main players battling each other. Of course, taking into account this is a Captain America movie and Helmut's with Steve Rogers, we imagine that Zemo has a bone to pick with the main protagonist.
For those unfamiliar with the comics, Helmut Zemo is actually the second major member of the Zemo family introduced. His father, Heinrich, was one of Captain America's greatest enemies in World War II and fought the Star Spangled Avenger soon after he was unfrozen. After Heinrich died, Helmut carried on his father's work and has become the Marvel universe's most notorious Zemo. However, because we haven't seen Heinrich in the previous Captain America movies, it remains to be seen whether Helmut's revenge involves his father or someone else.
We speculated last month that Zemo may be responsible for resurrecting Red Skull, who was last seen disintegrating upon touching the Tesseract in Captain America: The First Avenger. It would make sense if Brühl's Zemo has some kind of connection to the HYDRA leader and is using the superhero conflict to eliminate most, if not all, resistance to his plan. Whatever he has in store, even without his mask and purple duds, it sounds like Zemo will be just as villainous as he is in the comics.
We'll find out what Zemo is plotting when Captain America: Civil War charges into theaters on May 6.
Connoisseur of Marvel, DC, Star Wars, John Wick, MonsterVerse and Doctor Who lore. He's aware he looks like Harry Potter and Clark Kent.
Your Daily Blend of Entertainment News
Thank you for signing up to CinemaBlend. You will receive a verification email shortly.
There was a problem. Please refresh the page and try again.