New Captain America: Civil War Trailer Shows More Action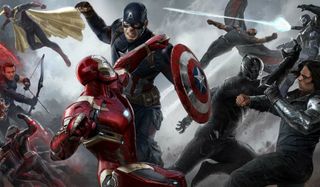 On a scale from one to ten, our excitement for Captain America: Civil War has pretty much been cranked up to eleven. The upcoming showdown between Team Cap and Team Iron Man has just about everything we could hope for in a Marvel movie, and we'll take every last glimpse we can get. Luckily for us, a new trailer premiered during this weekend's Kid's Choice Awards, and it showcases a bunch of new action. Check it out below.
Overall the trailer, which comes to us from THR, pretty much plays out identically to the one the premiered early last week, with a few exceptions. This trailer shows more footage of the more tertiary characters and their action sequences. Villain Crossbones is shown suiting up, and Agent 13 AKA Sharon Carter is finally pictured entering the fray and kicking some ass. Additionally, Black Panther and Falcon get some extra screen time to boot.
If the original trailer that premiered months ago focused on Steve Rogers' relationship with Bucky Barnes, then this trailer places more emphasis on the political conflict with Tony Stark. Iron Man believes that superheroes need limitations and regulations, while Captain American believes that such oversight could lead to serious abuses of power. Words are exchanged, and eventually the tension that has mounted between Cap and Tony Stark over the course of the first two phases of Marvel films reaches a boiling point.
As a result of this, a "Civil War" breaks out and it looks to contain some of the greatest action the Marvel Cinematic Universe has ever seen. Just about every major player in the MCU takes part, ranging from Iron Man and War Machine to new additions like Ant-Man (who gets an awesome moment with Hawkeye) and The Vision. We get small scale, technical fight sequences, and huge bombastic battles that utilize some of the Avengers' heavy hitters. Finally, capping off the trailer is the beloved arrival of our friendly neighborhood Spider-Man – complete with cheers from the crowd.
The Russos have a lot to live up to with regards to the action contained in Captain America: Civil War. It's predecessor – Captain America: The Winter Soldier – is widely considered to be the best standalone MCU movie to date, and contains some of the best overall action sequences in recent memory. The struggle with Civil War lies in crafting a movie that feels like a successor to that political thriller while not buckling under the immense weight of the enormous cast. Overall the early opinions of Civil War have been nothing if not positive, so it looks as though the directing duo might just knock it out of the park once more.
I guess there's really only one thing left to ask: whose side are you on? We still have a few months left until Captain America: Civil War actually hits theaters, and we will bring you all of the information we can regarding its upcoming release. Sit back, relax, and pick a side; Captain America: Civil War will blast its way into theaters this summer on May 6. Stay tuned for more details.
Originally from Connecticut, Conner grew up in San Diego and graduated from Chapman University in 2014. He now lives in Los Angeles working in and around the entertainment industry and can mostly be found binging horror movies and chugging coffee.
Your Daily Blend of Entertainment News
Thank you for signing up to CinemaBlend. You will receive a verification email shortly.
There was a problem. Please refresh the page and try again.