Captain America: The Winter Soldier Made Great By Honest Trailer Nitpicking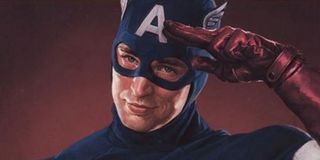 A few weeks ago the crew of Honest Trailers had a bit of a conundrum on their hands when faced with tearing apart one of the biggest hits of the summer, Captain America: The Winter Soldier. Basically, it's a film so good the movie-loving comedians struggled to make fun of it at all. It turns out, that was by design.
Collider reports Captain America: The Winter Soldier's success is owed in part to the very webseries that would gladly tear it down. It turns out the superhero sequel's helmers, Anthony Russo and Joe Russo, are big fans of Honest Trailers, and set the standards for their story's logic exceptionally high because of it.
Collider asked the Russo brothers how they felt about this unusual honor. Joe Russo admitted he was "flattered and amused," but then detailed how influential Honest Trailers was on the film's development. He explains:
Honest Trailers has happily mocked everything from Ghostbusters to Man of Steel and Forrest Gump, and with no signs of mercy. But when fans demanded the webseries take their knives to the critically adored Captain America: The Winter Soldier, their voiceover guy had to confess, "(it's a) really entertaining, well-directed movie. What? We have to be honest: it's good!"
While commenters have often decried Honest Trailers for accused cynicism or buzz-killing, it's clear the videos have proved a true source of inspiration for one of the summer's best films. And really, isn't that the point of this kind of dedicated nitpicking? To demand movies that allow us to suspend disbelief and experience an incredible ride?
I used to think that at their best Honest Trailers provide some catharsis for movie fans who've been heartbroken over a film that didn't dare live up to their expectations. But it seems that at their best, Honest Trailers can actually make for better movies. Even Marvel movies.
To see the Captain America: The Winter Soldier Honest Trailer, click to the next page..
Staff writer at CinemaBlend.
Your Daily Blend of Entertainment News
Thank you for signing up to CinemaBlend. You will receive a verification email shortly.
There was a problem. Please refresh the page and try again.