Can Your Love For Forrest Gump Withstand Its Honest Trailer?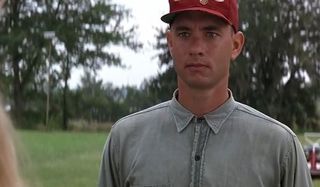 It's a six-time Academy Award Winner. It's earned a spot in the Library of Congress's United States Film Registry for preservation. It was a pop culture phenomenon. It's Forrest Gump, a movie hailed by many as a crowd-pleasing contemporary classic. Now it's getting the Honest Trailer treatment. And our appreciation for Forrest and his crew will never be the same.
What happens if you set Forrest's running to zany Benny Hill-style music? Forrest's story of perseverance seems downright silly. But the Screen Junkies have just gotten started. This video lays into Forrest Gump for everything from its less than ideal love story--less girl meets boy, more suicidal junkie manipulates mentally handicapped man--to its clichéd characters (strong and sassy single-mother, bitter Vietnam veteran, and the dumb Southerner). Plus this Honest Trailer points out a serious flaw in Forrest Gump's logic. How has Forrest become a college football star, war hero, ping pong champion, puff piece subject, millionaire, and Fortune magazine coverboy without anyone ever recognizing him?
Wow. This beat Four Weddings and a Funeral, Quiz Show, The Shawshank Redemption and Pulp Fiction for Best Picture.
I'm still a fan of Forrest Gump, as it's the kind of movie you can throw on and be easily entranced by. Better yet, it's definitively feel-good and hopeful while traipsing through some of modern U.S. history's darkest moments. I don't know of a move that's more American cinema than that. Still, Honest Trailers makes some solid--albeit snarky--criticisms here. The most disturbing of which is that Forrest succeeds by blindly following direction, a theme that seems almost un-American. After all, our early cinema was largely defined by men who didn't follow the rules, gangsters and cowboys.
It's a challenge to really sum up in words, so allow this GIF of Christian Bale to illustrate how this Honest Trailer is making us feel:
Let's say that this Honest Trailer hasn't shattered your world, and you still love Forrest Gump for its shrimp overload, celebrity fascination, catchphrases, Jen-nay and all. You'll be glad to know Paramount Pictures is re-releasing this long-adored Oscar-winning drama this fall. The movie will be screening in IMAX theaters around the country in celebration of Forrest Gump's 20th anniversary (can you believe it's been 20 years since Forrest Gump?. We expect to see new trailers soon, promoting this big anniversary event and reminding us all how addictive this bumpkin tale truly is.
Your Daily Blend of Entertainment News
Staff writer at CinemaBlend.