Carla Gugino Thinks Sin City 2 Could Still Happen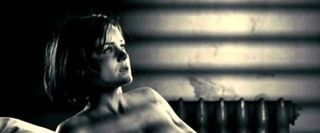 Here's another instance of Arrested Developmentism, a term I invented to describe the incessant teasing of projects which will never happen, by actors, actresses, or filmmakers desperate for attention. Carla Gugino seems to think Sin City 2 is about to happen.
In her defense, she doesn't get all that specific about it and may just be relaying what she heard, rather than making things up to get the press to interview her. Most of the press is male, so Carla Gugino definitely has no problem getting their attention. But here's what she said about the long promised sequel to what many consider Robert Rodriguez's best film:
The people she's referring to could be the rest of the original movie's cast, which contains such big names as Bruce Willis, Jessica Alba, Mickey Rourke, Rosario Dawson, Clive Owen, Benicio Del Toro, and Elijah Wood, just to name a few. But I suspect she's really talking about Robert Rodriguez and Frank Miller, who co-directed the original film and haven't been able to agree on anything since.
The last official word on the film from Robert Rodriguez came back in October when he promised that Sin City 2 would be his next project. But if you've followed Robert Rodriguez's career at all, you know he promises a lot of things and more often than not it doesn't amount to much. Rodriguez promises Sin City 2 at least once a year, every year, since 2005.
Here's Carla's full interview with Digital Spy in which she drops Sin City 2 speculation:
Your Daily Blend of Entertainment News
Thank you for signing up to CinemaBlend. You will receive a verification email shortly.
There was a problem. Please refresh the page and try again.