Carrie Brownstein Takes Over Lost In Austen For Nora Ephron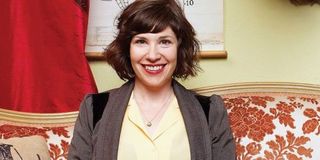 Riot grrrl turned comedienne Carrie Brownstein has been winning frenzied praise for her sketch show with Fred Armisen, Portlandia. But now this fierce and funny lady is going solo to tackle a promising movie project.
Variety reports Carrie Brownstein has been selected to write Lost In Austen, a script that was previously being penned by the late Nora Ephron. Based on a popular British mini-series of the same name, Columbia Pictures' Lost in Austen will offer a new spin on the classic Jane Austen novel Pride and Prejudice.
In case you missed the excellent 2008 mini-series, here's a rundown of its premise. Amanda lives in contemporary London, but loathes the low-bar that is set for romance there. She wishes she could live in the era of Austen, where men were gentleman and romance was real. Her wish unexpectedly comes true when she walks through a strange door and finds herself in the home of the Bennet family of Pride and Prejudice. With Elizabeth Bennet making an escape through that same door, Amanda is trapped in her favorite book. But without its heroine, the story goes go wildly awry!
We first got word of a Lost In Austen adaptation back in the fall of 2011, when Nora Ephron signed on to adapt it. Of course, development on Lost in Austen hit a major setback when Ephron died the following summer. She was 71-years-old, and left behind a legacy that includes Sleepless in Seattle, When Harry Met Sally… and Silkwood.
Personally, I'm eager to see this project get back on track. If you love Austen, you're sure to appreciate the thoughtful approach to Pride and Prejudice that allowed Lost In Austen's creators to show different sides to Mrs. Bennet, Jane and Darcy (to name a few). Basically, Brownstein has a great base to inspire her first foray into feature film writing. However, the trick will lie in cutting down 3 hours of material into something closer to 2, or even 1 ½. But considering the unique and smart brand of humor Brownstein's brought to television with Portlandia, we're confident she can create something silly and sensational here.
One change that will be made from the BBC mini-series is the location of Amanda's apartment. She's being transported from London to Brooklyn. So instead of a modern Brit girl being sucked into the past and culture of her own nation, you'll have a contemporary Brooklynite being hurled into an even more extreme fish-out-of-water scenario. No mention is made of who might direct or star in Lost in Austen at this juncture.
To see a trailer for the Lost In Austen mini-series, click to page 2.
Staff writer at CinemaBlend.
Your Daily Blend of Entertainment News
Thank you for signing up to CinemaBlend. You will receive a verification email shortly.
There was a problem. Please refresh the page and try again.