Catching Fire Director Shortlist Includes Alfonso Cuaron And David Cronenberg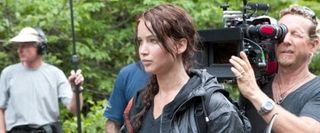 With Gary Ross officially out of the The Hunger Games sequel Catching Fire, everyone on the Internet-- us included-- has been speculating about who ought to replace him. One of our top picks was Harry Potter and the Prisoner of Azkaban director Alfonso Cuaron, and as it turns out, we were right on the money-- Lionsgate's shortlist of directors has leaked to The Los Angeles Times, and Cuaron is right there in the mix.
The list contains "seven or eight names, all men," but the Times is only revealing three of them-- Cuaron, Babel director Alejandro Gonzalez Inarritu, and surprisingly enough, David Cronenberg, the director behind landmark genre films like The Fly and Videodrome but also prestige-y dramas like Eastern Promises and A Dangerous Method. It's unclear how likely any of the directors are to take the job, or how serious their talks are with Lionsgate, but it does give us a sense of the general direction the studio is headed in finding a replacement.
Without knowing the other names on the list, it still seems clear that the studio is angling for bigger names, and names with prestige-- Hunger Games author Suzanne Collins is apparently very concerned with finding a skilled director, and given her close working relationship with Gary Ross, the studio wants to keep her happy. Cuaron obviously has the most experience with this kind of big-budget franchise filmmaking, thanks to his Harry Potter work, while Inarritu and Cronenberg have never really come close to it. Then again, neither had Gary Ross, and we see how well that gamble turned out.
I'll stick by my hope that Cuaron gets the job, but I'm definitely intrigued by the notion of Cronenberg taking the job, especially given his skill with mind-bending special effects that might come in handy late in the story. Who of this shortlist would you want to see take the job? Or are you still holding out hope that one of the other four names is more up your alley?
Your Daily Blend of Entertainment News
Staff Writer at CinemaBlend