Is Chadwick Boseman Already Black Panther?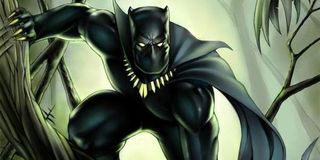 Everybody knows that Marvel's at the top of the film world right now, and fans are hungry to learn what's next, even if it means piecing together the tiniest details. There's another Avengers coming next summer, introductory movies for Ant-Man and Doctor Strange, a third Captain America and a second Guardians Of The Galaxy. Beyond that, who knows? Could Black Panther be next at bat? And is Chadwick Boseman involved?
Boseman was doing promotion for Get On Up recently on The Breakfast Club (via Flickering Myth) when he was asked about the famous Marvel hero. His response was coy, but maybe telling?
This just in – Chadwick Boseman has just confirmed that he is indeed Black Panther.
All kidding aside, by "contract" he could just be speaking of a hypothetical contract. As in, "I didn't sign anything, so I'm not anything yet." Or is he winking at the fact that he can't legally say anything, but he has talked to Marvel about the role? Or maybe he's still having meetings and Marvel is determining if either he or someone else will become Black Panther? Does Chadwick Boseman secretly already rule Wakanda?
Of course, maybe Black Panther doesn't even exist yet. It could conceivably be released in that July 2016 slot, though it does not have a director or screenwriter currently attached, while Scott Derrickson is currently working on the date-less Doctor Strange. It could be in the two unclaimed 2017 slots as well. If so, it might be a little early to engage in talks with Mr. Boseman, who is absolutely electric in Get On Up. Unless this is a ridiculously crowded field (always a possibility), Boseman is going to seriously generate some Best Actor Oscar talk. Marvel might be wise to lock him down now before his price skyrockets.
Boseman, 32, is probably the perfect age to play T'Challa, ruler of the nation of Wakanda. He's aged out of playing a teenager, but he can still play son to an older T'Chaka, his father, a role just begging for an older, more regal black actor. The origins of Black Panther are ripe for the big screen, and Boseman is the right kind of actor who can be someone striving to realize an ideal, and then triumphing over adversity. After 42, most would have said he was a good choice for the part. After Get On Up, he's a GREAT choice, playing Brown through the years as an intense upstart, then passionate showman, and finally a bitter old man. The easy route in that movie would have been to shoot for the R-rating and have Brown drown in a sea of drugs. Instead, they let Boseman play the diminishment, play the tragedy, hitting harder than any substance abuse. And then he hits the stage in spite of all this, and he is a superhero. It's perfect casting. Let's see if something comes of it.
Your Daily Blend of Entertainment News
Thank you for signing up to CinemaBlend. You will receive a verification email shortly.
There was a problem. Please refresh the page and try again.