Gambit And Nightcrawler Could Appear In X-Men: Apocalypse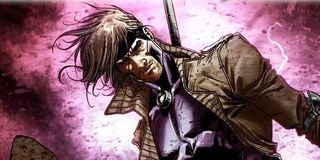 After six X-Men movies thus far (and plenty on the way), it has to be acknowledged that Fox and Marvel have really gotten a diverse collection of mutants onto the big screen. Some have appeared many times, others only briefly. And two only once – Remy Labeau, otherwise known as Gambit, appeared in X-Men Origins: Wolverine and Nightcrawler popped up in X2: X-Men United. Neither has been heard from since, but director Bryan Singer may be about to change that.
Speaking to Cine Premiere (via Comic Book Movie), Singer says:
While some believe that the upcoming X-Men: Days Of Future Past is re-writing the mythology, clearly some remnants remain, and some characters are stuck in their respective eras. Which is why he specifies a young Nightcrawler, but a regular-aged Gambit: the Wolverine prequel found Taylor Kitsch playing Gambit in 1979, an otherwise-confusing canon deviation given that the character really has no ties to any era other than the nineties. It's a fashion thing.
Nightcrawler was the standout in X2, but Alan Cumming did not return for a third film for any number of reasons, some of which are tabloid-y, some not. Then again, the makeup was extensive and bothersome: poor Jennifer Lawrence must be kicking herself that instead of sitting in a makeup chair being blue all day long, she could be double fisting Oscars. A young Nightcrawler would fit in the timeline, though you'd assume his adventures in X-Men: Apocalypse would be isolated from Xavier and the gang, given his White House assassination attempt in X2 is the first they've heard of this "new mutant."
Or maybe not. Having both characters show up could just be a creative decision that mows over previously-established continuity, such as the decision to have an older White Queen show up decades before the younger version of the character in X-Men Origins: Wolverine. And maybe Kitsch won't even come back for the role, given that the popular character has already come up as a candidate for recasting by producers. X-Men: Apocalypse is believed to be set in the 80's and, like X-Men: First Class, not at all reliant on the character of Wolverine, so you're going to need some major characters to fill those shoes: no one was really clamoring for more Darwin and Havok after First Class.
It's worth noting that these are the first characters we've heard could be in this movie. There's no roster for the upcoming follow-up to Days Of Future Past. With an individual sequel on the way, it seems certain that Wolverine will live. Beyond that, we're not even guaranteed Xavier or Magneto will make it to face Apocalypse. The question should probably be asked: who's starring in X-Men: Apocalypse?
Your Daily Blend of Entertainment News
Your Daily Blend of Entertainment News
Thank you for signing up to CinemaBlend. You will receive a verification email shortly.
There was a problem. Please refresh the page and try again.