Channing Tatum Really Hates Mirrors In This Incredible New Foxcatcher Trailer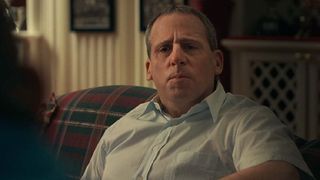 Foxcatcher is coming, and Jesus, does it look dark. This true-life drama tells the story of an ambitious wrestling prodigy, Mark Schultz, who gets involved with a shady millionaire, John Du Pont (Steve Carell). If you're familiar with the real story, you know where this is all headed, and it's not pretty. But, being a trailer, this clip assumes you're not. And even though the basic plot developments make sense in an A-to-B progression sort of way, this feels like a clip for a movie that will be entirely unpredictable.
The tricky part is that this movie was filmed a little while ago, and there's been slight public perception changes. Obviously, Steve Carell is still considered a "funnyman", even if audiences are somewhat used to seeing him in dramatic roles from time to time: Carell shared the screen with Oscar winners Meryl Streep and Tommy Lee Jones in 2012's Hope Springs and brought an unpleasant menace to The Way Way Back last year. Also, The Incredible Burt Wonderstone was also a thing that happened, and there were no laughs in that movie at ALL.
Channing Tatum is another, separate case. Coming off that hot 2012 where he starred in The Vow, Magic Mike and 21 Jump Street, Tatum seemed like a five tool prospect ready to become the A-Lister of choice for many movie fans. But he didn't capitalize on that. Most people skipped White House Down, and the few that did see it found it, intentionally or not, laughable. And the guy doesn't even make it out of the first acts of G.I. Joe: Retaliation or Side Effects. So the biggest impression he's made on audiences in recent years hasn't been from having a diverse filmography, but from being a funny guy who starred in 21 and 22 Jump Street. Tatum might have an even harder battle to fight against perception than Carell.
Of course, this trailer certainly does its part to help convince us of the power of its two leads. It strips down the premise to bare essentials. A wrestler, a trainer, a skeptical outsider (Mark Ruffalo) and shaded, complex emotions. The words and emotions between athletes and coaches are a complex, rewarding source of drama, and it's interesting to imagine such a clash between actors like Tatum and Carell. It's beyond friendship, competition or homosexuality for Schutlz and Du Pont, and Bennett Miller's new film looks to plumb all those depths.
Whatever the case, this is an EXCELLENT trailer. Creepy without being outlandish, hard-to-watch even as it seems like a straightforward emotional drama. And then that ending, with Tatum's showdown in the mirror... if there are effects to create that shot, they're incredible. If not, Tatum is... well, he's a human battering ram, which is less impressive, but still pretty amazing. Foxcatcher shatters all your mirrors on November 14th.
Your Daily Blend of Entertainment News
Thank you for signing up to CinemaBlend. You will receive a verification email shortly.
There was a problem. Please refresh the page and try again.