Charles Darwin Is Getting An Adventure Movie Because Science Is Cool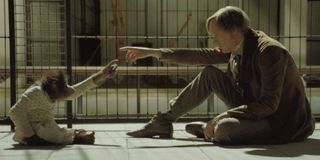 Charles Darwin doesn't seem like he would be the prime candidate to spotlight an adventure movie, but, then again, Abraham Lincoln didn't seem like a vampire hunter. The scientist famous for developing the theory of evolution is said to be the face of a new movie that Disney is close to snagging that will send the famed scientist on a whirlwind trip.
Deadline was first to report the news of the new Darwin adventure flick — a phrase I'd never thought I'd be writing — and details are extremely limited - including the title of the project. However, we do know that Stephen Gaghan, the mind behind the screenplays for Traffic, Syriana, The Alamo and Rules of Engagement, penned the script that caught the eye of the Mouse House.
As the trade notes, Darwin took a nod from Indiana Jones in exploring and answers questions about the world. In 1831, he embarked on a five-year voyage on the HMS Beagle to chart the coastline of South America. Along the way, he made many discoveries that would come to influence his theories later in life. Given the skeletal structure of the untitled film, this portion of Darwin's life seems like a good starting point for such a project.
Darwin was also the subject of the 2009 movie Creation. Starring Paul Bettany as the naturalist/geologist, Jennifer Connelly as his wife Emma, and Benedict Cumberbatch as career U.S. Army officer Joseph Hooker, the film dramatized Darwin's life from the point after he lost his daughter, Annie, and his faith in God. This moment also slowed down his progress on the theory of evolution. Prior to its release, Creation had trouble landing U.S. distribution, as virtually all studios deemed it too controversial for religious America. Given how much we've grown as a country since then, it seems the ones likely to cause such a fuss over Disney's prospective film would be groups like One Million Moms. Though, there's always something that could cause a unforeseen stir. Darwin was also included in the films The Voyage That Shook the World (as played by John Unicomb), Darwin's Darkest Hour (Henry Ian Cusick), Curious Soul (Chris Collins) and Burke and Hare (Christian Brassington).
On the surface, this seems like an attempt to make history sexy for thrill-seeking, blockbuster-loving audiences. I doubt it'll turn out like the Sherlock Holmes films starring Robert Downey Jr. and Jude Law, but it seems to be along the same lines as John Cusack's Edgar Allen Poe in The Raven, any of Shakespeare's plays adapted with modern settings and casts, and Luke and Owen Wilsons' Wright brothers in Around the World in 80 Days. I guess if you want people to eat their vegetables (i.e. history and science), bedazzle them with something flashy first.
Your Daily Blend of Entertainment News