Chloe Moretz Still Not Committed To Kick-Ass 2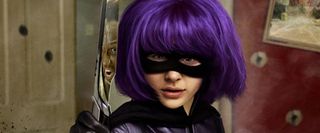 A sequel to the baroque superhero adventure Kick-Ass had long seemed a fevered dream of the comic's creator Mark Millar, who has developed a notoriety for leaking "news" that is either conjecture or wishful thinking. So when Millar declared that Kick-Ass 2 would go into production this summer, we were a bit leery. However, with The Avengers showing there's still a serious love of superhero features among moviegoers, all the studios are looking to capitalize, and so Universal is moving forward on Kick-Ass 2 with Cry_Wolf helmer Jeff Wadlow usurping Kick-Ass director Matthew Vaughn, who is too busy developing X-Men: First Class 2 to return. Nonetheless, Vaughn will help produce the sequel, which is slated to shoot in London this September.
Comic Book Movie uncovered these and more details on Kick-Ass 2 while attending a panel discussion that included Wadlow, who gamely answered questions about the upcoming adventure. The writer-director revealed he penned the screenplay over the holidays, and sought to find a place where the first movie and the second graphic novel intersect. Like its precursor, Kick-Ass 2 will take some departures from its source material, Millar's comic of the same name, as Wadlow explains:
As to specifics, he hopes to play up Hit Girl's part, despite the fact that her story is "sidelined" in Millar's second book. As she gives up her superhero alter-ego in the comic, its story instead focuses on Kick-Ass and Red Mist's evolution to the Motherfucker, a more vicious villainous incarnation. However, this approach may be problematic, as Moretz hasn't yet signed on to the sequel, though Wadlow says the two have met, she's read the script and is by his estimation, "very excited about what we're doing with Hit-Girl."
Kick-Ass stars Aaron Johnson and Christopher Mintz-Plasse are also said to be in talks, but it seems far more likely they'd be game to reprise their roles as their careers haven't exactly blown up as Moretz's has. Since her brazen breakthrough with pint-sized and foul-mouthed Hit Girl, the starlet delighted horror fans with Let Me In, and dazzled critics with Hugo. However, her most recent efforts aren't faring so well. Dark Shadows tanked its opening weekend, accruing only $29 million, which smarts with a bloated budget of $150 mil. Plus this batty comedy—as well as the gritty coming-of-age tale Hick—were generally panned by critics. Could this urge her to return to the role that first won her such good will? Let's hope so, both because her upcoming Carrie remake is a risky venture, and because Kick-Ass 2 wouldn't be nearly as hard-hitting without her.
Staff writer at CinemaBlend.
Your Daily Blend of Entertainment News
Thank you for signing up to CinemaBlend. You will receive a verification email shortly.
There was a problem. Please refresh the page and try again.