Chris Evans Gets Naked In New What's Your Number Clip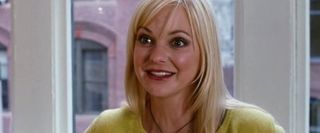 When I saw The Change-Up over the weekend I was barraged with a series of trailers for comedies that ranged from mediocre-looking to downright heinous. Between Sarah Jessica Parker trying to reclaim her Sex and the City glory in I Don't Know How She Does It and the omnibus celebrity-fest New Year's Eve, things were looking pretty grim-- which might be why I took such a shine to the third movie in the lineup, the Anna Faris comedy What's Your Number? I've had hopes for this one for a while, based on Faris's skills and the awesome supporting cast around her. When Chris Evans stepped up as a full-fledged movie star in Captain America, it definitely didn't hurt either.
The problem now is that with What's Your Number hitting theaters on September 30, the marketing team seems to have run out of scenes from the film they're willing to show us. At least that's the conclusion I draw from the new international trailer that Fox has put online, which contains all the scenes we've seen in the domestic trailers, just in a slightly different order. Luckily if you're bored by this, Perez Hilton also debuted a clip from the movie, and it features Chris Evans naked. I'm not really sure what more you'd want to know. Check out both the trailer and the clip below.
Extra points to the trailer for kicking off with Anthony Mackie, who is great even though his joke isn't all that funny. The clip is a lot more enjoyable, and not just for the nudity-- Faris and Evans both seem smart enough to have developed a good flirtatious rapport. You can call me crazy for putting my faith in this movie, which at its core seems like most other generic rom-coms, but I've been waiting for years to Anna Faris to have her proper breakout role, and I'm going to continue hoping this is it until proven otherwise.
Staff Writer at CinemaBlend
Your Daily Blend of Entertainment News
Thank you for signing up to CinemaBlend. You will receive a verification email shortly.
There was a problem. Please refresh the page and try again.