Joseph Gordon-Levitt Up For Guardians Of The Galaxy Lead Role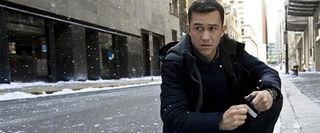 We spent so much time wondering if Joseph Gordon-Levitt would be part of the big upcoming DC Comics franchise that we never even considered he might hop on over to Marvel. But now the latest rumor about the actor who appeared in The Dark Knight Rises says he's joined the list of those in the running for Guardians of the Galaxy, the upcoming Marvel Studios film set for a August 1, 2014 release date.
The part of team leader Peter Quill, a.k.a. Star Lord, has been up for auditions for weeks now, with Jim Sturgess, Lee Pace, Joel Edgerton, Eddie Redmayne and Jack Huston all in the running, and Pace even talking openly about his audition. According to Deadline, which broke the news about Gordon-Levitt's involvement, he's been "added to the list of actors they are considering" although it's unclear if he's been offered the part or is just part of the pile of guys angling to jump on board. With Guardians of the Galaxy's outer-space setting and characters who include several aliens and a talking raccoon, the Quill part would be crucial as the relatable lead human, and obviously would be an enormous boost for whichever actor gets the part.
I'll leave the speculating about whether Gordon-Levitt is right for the part to the Guardians of the Galaxy faithful, while I ponder over Gordon-Levitt's slightly mystifying variety of career choices. This year alone he was in a superhero movie and a surprisingly well-reviewed caper about a bike messenger, and in a few weeks he'll present his directorial debut at Sundance. Is he aiming to have as diverse a career as possible while he's in his 30s? Would another superhero movie potentially damage that? In a way he seems like exactly the actor you'd expect to be auditioning, given that all the other options have been of similar age and appearance, but for some reason I never expected Gordon-Levitt to veer back into comic book territory again so soon. Let us know what you think in the comments, and stay tuned as we continue to muddle through endless audition stories on our way to an actual cast.
Your Daily Blend of Entertainment News
Staff Writer at CinemaBlend
Your Daily Blend of Entertainment News
Thank you for signing up to CinemaBlend. You will receive a verification email shortly.
There was a problem. Please refresh the page and try again.