Chris Pratt Attached To Lead Role In This Controversial Comic-Book Adaptation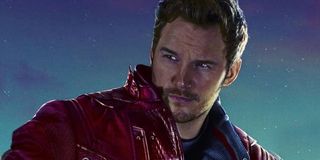 If you think the Marvel Cinematic Universe had exclusive rights to Chris Pratt-styled comic book heroes, you were wrong. The man who made Star-Lord the most lusted after movie character of the summer is now attached to a totally bonkers adaptation coming from Universal.
Collider reports Christ Pratt is attached to headline Universal's Cowboy Ninja Viking, based on the graphic novel of the same name by A.J. Lieberman and Riley Rossmo. As the title might have tipped you, the premise of this adventure would be following a covert government assassin (Pratt) who possesses the battle skills of a cowboy, a ninja, and a Viking. Because why not?
The nitty gritty of the comic Cowboy Ninja Viking is that its hero Duncan suffers from Multiple Personality Disorder, and so was specially selected by the government to turn this issue into an advantage. He and agents like him are encouraged to develop these personalities. All the better to become the ultimate agent, right? According to Collider, the latest draft of the Cowboy Ninja Viking script actually has Duncan physically transforming into his alter egos. Well, in his own mind anyway. To the public, he'd still look like Chris Pratt.
Basically, it's taking a page from R.I.P.D., which is cool because I'm one of about thirty or so people who bothered to see that Universal pic. (It's stupid, but fun. Check it out sometime.)
This approach--of Duncan transforming into different physical versions of himself--could mean that Universal will look to cast multiple actors to play the part(s). But we're betting that they'll stick with Pratt. For one thing, the guy is a big fat star now, and seems guaranteed to bring moviegoers in droves. For another, it'd be a ton of fun to see him leap from everyman to cowboy to ninja to Viking. Here's hoping his attachment means Cowboy Ninja Viking is finally on its way toward production.
We first got word on Cowboy Ninja Viking back in the fall of 2010, when Disney bought the rights, and Zombieland scribes Rhett Reese and Paul Wernick were lined up to pen the adapted screenplay. However, Disney chucked the pic into turnaround, and Universal scooped it up. By early 2012, Universal took Rhett Reese and Paul Wernick, and were offering it to Marc Forster (World War Z) to helm. But Collider's claiming Forster is no longer on board with the project, and producers are currently shopping for a new director. We're betting with Chris Pratt on board, their bargaining position just got a lot stronger. I mean, come on.
Full Disclosure: I wanted to include a GIF of Star-Lord's charisma-packed "Come and Get Your Love" dance. But the internet has failed me. Shirtless broody Star-Lord will just have to do.
Your Daily Blend of Entertainment News
Staff writer at CinemaBlend.