Christian Bale To Challenge Tom Hardy With His Own Mount Everest Movie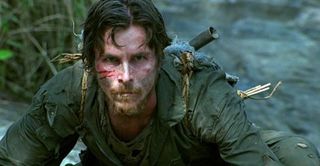 Though he's most famous for playing the bulked-up and growling Batman, Christian Bale has spent plenty of time putting himself through much worse onscreen, starving himself to play the lead in both The Machinist and Werner Herzog's Rescue Dawn, as a pilot shot down during the Vietnam War and captured by villagers. Whatever it is that drives Bale to act, part of it includes self-punishment-- and he's aiming to do it again in another movie based on a true story, this time set atop Mount Everest.
Remember Jon Krakauer's ubiquitous book Into Thin Air? According to Deadline the story behind it will soon become a movie, with Bale now in talks to star. Icelandic director Baltasar Kormakur, who recently made The Deep in his native land and also directed the Mark Wahlberg vehicle Contraband, is already set to direct. The film won't actually be based on Krakauer's book, but on "various books and interviews with the survivors." It will still revolve around a 1996 storm that struck Everest while three different groups were attempting to climb it, with eight of them dying on the mountain.
If you've got Mount Everest on the brain and don't know why, Tom Hardy-- none other than Batman's adversary Bane-- is also in talks for a film about the famous mountain, though he'd play explorer George Mallory, who attempted to climb Everest three times before dying on his final ascent. That film, to be directed by Doug Liman, would be a period piece set in 1924, which could make it different enough from the Bale movie that both go into production. Then again, with both White House Down and Olympus Has Fallen on their way to theaters this year, clearly competing movies can both work their way into the marketplace if they want it badly enough. And who wouldn't want to see Batman and Bane back up against each other, just with competing movies? Which Everest story would you be more likely to see-- Hardy's or Bale's?
Your Daily Blend of Entertainment News
Staff Writer at CinemaBlend