Christina Aguilera Is A Good Girl In This Extended Burlesque Clip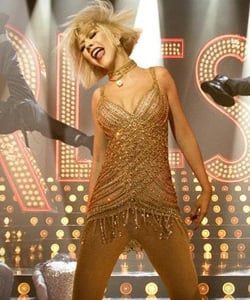 Hold on to your hats, musical fans, because this extended clip from Burlesque might just be too much for you to handle. Pop princess Christina Aguilera shows off her sexiness as well as a few dance moves courtesy of the kind folks over at Trailer Addict.
The clip is exactly what you should be expecting out of Burlesque, an over-the-top, sexy romp through the burlesque club with a whole lot of that Aguilera flavor spilled all over it. While it doesn't exactly get you into the gritty details of the story, the clip does an amazing job of taking the Showgirls preconception and squashing its face into the dirt.
The film will not be for everyone, myself included, but it's shaping up pretty nicely and by the looks of it we may have another pop star turned movie star on hands. For those looking for flash, sex, and some big ass musical numbers, Burlesque will be your Citizen Kane. Scope out the clip below, and the synopsis below that.
For more on Burlesque check out our preview page.
Your Daily Blend of Entertainment News