Christina Ricci Joins Susan Sarandon In Mother's Day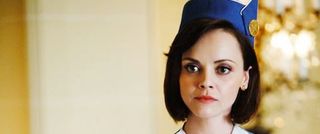 Christina Ricci's work of late seems to have the common thread of being period pieces, with her starring role in ABC's Pan Am and a part starring alongside Robert Pattinson, Uma Thurman and Kristin Scott Thomas in Bel Ami. With Pan Am grounded after one season, that should leave her schedule open for feature roles, among which will be a part in Mother's Day.
From Welch writer/director Paul Duddridge, the film will look at the relationships between various mothers and daughters. According to Deadline, Ricci has been cast in the movie, joining Susan Sarandon and her real life daughter Eva Amurri Martino. At this point, it looks like that's it for the announced cast, though it seems likely that we'll hear of more casting soon enough. There's no word on whether Ricci will be playing the mother-side or the daughter-side of a duo, assuming it's one or the other (or both).
Mother's Day is described as a drama, and seems to bear no relation to other recent "Day" movies (Valentine's Day, New Years Day), with Duddridge's past credits appearing to be focused mainly on television. But it looks like the movie is already having some success bringing in notable names. Sarandon's recent work has her playing Joy in Showtime's underrated drama series The Big C, and she has a number of movies in the works, including the feature adaptation of Cloud Atlas. Meanwhile, Ricci's recent roles include Pan Am and Bel Ami, and she's also set to lend her voice to the Smurfs sequel. It'll be interesting to see who else joins Mother's Day.