Christoph Waltz Is Tense And Nude In Terry Gilliam's Zero Theorem Trailer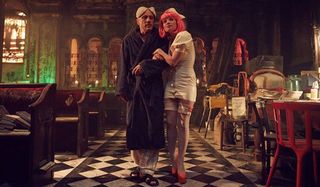 Christoph Waltz + Terry Gilliam = The Zero Theorem, also known as a movie we've been aching to see for nearly a year now! The latest from the deranged but brilliant mind behind 12 Monkeys, Brazil and Time Bandits is back with a movie that is sure to be as mind-bending as it is uniquely beautiful to behold. The latest trailer promises much weirdness, many character actors, and a bonkers adventure.
Two-time Academy Award-winner Christoph Waltz (Inglorious Basterds, Django Unchained) stars as Qohen Leth, a computer genius seeking to uncover the purpose for human existence. However his quest is again and again derailed by The Management, which sends a lusty teen girl (Melanie Thierry) to seduce him away from his search for meaning.
The trailer up top is the first official trailer for the film's long-awaited U.S. release, brought to us by the new distributor Amplify. The Zero Theorem made its world debut back in September of 2013 at the Venice Film Festival. A long string of film fest appearances followed, taking the sci-fi thriller from Rio de Janeiro to Sitges to Austin's Fantastic Fest, London, Brisbane and Belgrade. Terry Gilliam'sThe Zero Theorem made its theatrical world premiere on January 2nd of 2014 in Russia. Releases followed in the U.K., Ireland, Singapore, Macedonia and more. And still, the U.S. had to wait for news of a release. Finally our day has come. Or is coming.
The Zero Theorem will hit theaters Stateside on September 19th. But if you can't wait that long, mark your calendar for August 19th, when the film will be made available on iTunes and VOD.
Why has it taken The Zero Theorem so long to land a U.S. release date? Perhaps it's because Gilliam's movies are far from safe commercial properties. 12 Monkeys was a hit, pulling in $57 million domestic and another $111 worldwide. But most often, Gilliam's box office prowess is non-existent in the States. Fear and Loathing in Las Vegas cost $18.5 mil and made $10 mil. The Brothers Grimm boasted Matt Damon and Heath Ledger, yet the $88 mil movie made just $37 mil in the U.S. Tideland followed with a budget of $12 mil, and a painfully low domestic gross of $66,453. And most recently was The Imaginarium of Doctor Parnassus, a $30 million fantasy that had major production issues when its leading man (Ledger) unexpectedly died. Not even the draw of seeing Ledger's last film could bring this above $7.6 million in the U.S.
So yes, Terry Gilliam is not a filmmaker who will make a distributor lots of money. But as I am not a distributor, I don't care. Gilliam's films are seminal, wonderful and surreal. And I am chomping at the bit to see what he's done with a cast that includes not only Christoph Waltz, but also David Thewlis, Ben Whishaw, Gwendoline Christie, Peter Stormare and Tilda Swinton. Thankfully, we don't have much longer to wait.
Staff writer at CinemaBlend.
Your Daily Blend of Entertainment News
Thank you for signing up to CinemaBlend. You will receive a verification email shortly.
There was a problem. Please refresh the page and try again.