Christopher Nolan Wants Matthew McConaughey For Interstellar Lead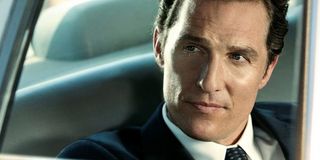 After his brilliant string of performances last year brought him thisclose to an Oscar nomination, Matthew McConaughey seemed guaranteed to move on to bigger things than ever-- and now, that first big thing may have come along. Deadline reports that Christopher Nolan has offered McConaughey the lead role in Interstellar, the project he's set up as his first effort since the conclusion of the Dark Knight trilogy.
In true Nolan fashion we know almost nothing about the story, beyond the one-sentence description revealed in January that it will "depict a heroic interstellar voyage to the farthest borders of our scientific understanding." Jonathan Nolan, Nolan's brother and frequent collaborator, has been developing the project since 2007, when Spielberg was set to direct it, and only earlier this month, after reshaping the script to include one of his own ideas, did the elder Nolan sign on to direct his brother's script. Deadline adds the detail that McConaughey's potential character is named Cooper, which tells us even less about the character than the fact that he wants McConaughey to play him.
As Deadline notes, "There's no deal yet, but who says no to Nolan?" That person could be McConaughey, who was burned badly by the big studio portion of his career that lead him to nonsense like Sahara and Reign of FIre. Only by teaming up with directors like Richard Linklater (Bernie), Jeff Nichols (the upcoming Mud) and William Friedkin (Killer Joe) has McConaughey been able to take control of his career. But Nolan is not your average blockbuster director, and McConaughey surely knows that the high profile-- and the paycheck-- of a giant movie like this one would almost definitely take him in the right direction. We'll be thrilled to see this work out-- and of course, still damn curious about what this movie actually entails.
Staff Writer at CinemaBlend
Your Daily Blend of Entertainment News
Thank you for signing up to CinemaBlend. You will receive a verification email shortly.
There was a problem. Please refresh the page and try again.