Civil War Creator Mark Millar Drops Hints About Martin Freeman's Captain America Role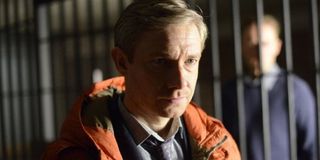 When it was announced that Martin Freeman joined the cast of Captain America: Civil War, speculation began to flow hotter than a vat of molten Vibranium. However, if we are to believe Mark Millar, the mastermind behind the comic book storyline on which the film is based, Freeman's role is something apparently "obvious," rather than a costumed character.
In a recent interview with Radio Times, Mark Millar, who wrote Marvel's Civil War comic book series, revealed that he knows the identity of Martin Freeman's character in the film. Obviously unable to divulge that bit of info, Millar instead dropped a few hints about the direction of the character, which, for all their cheekiness, may actually help in the deductive process. According to Millar:
With that statement, Millar eliminated a good portion of the speculation that has The Hobbit series star, Freeman, pegged to possibly take one of the more ambitious signature roles of the expanding Marvel Cinematic Universe. One such idea pointed to characters from the recently-integrated Spider-Man mythos, like, for example, Norman Osborn, a.k.a. The Green Goblin, who played a heavy role in the Civil War comic book storyline. However, it seems that, according to Millar's hints, those ideas might have fans getting a bit ahead of themselves. As Millar further qualifies:
With "obvious" being the operative word, we might presume that Millar is implying that Freeman's Civil War character will be the result of a bit of typecasting. However, he continued to laud the acting chops of Freeman, implying the extent of his range, jokingly saying, "he could play Hit-Girl." (Referring to the young femme fatale from his Kick-Ass series.) Yet, whether it's his Hobbit hero, Bilbo Baggins, or Sherlock sidekick, John Watson, or even intergalactic hero, Arthur Dent in The Hitchhiker's Guide to the Galaxy, Freeman's characters always give off an awkward, fish-out-of-water vibe. Thus, a description of an "obvious" role may eliminate major variables, but it doesn't help narrow down the field of normal non-superhero characters.
The dominant speculation in the non-superhero/supervillain arena points to Freeman playing Henry Gyrich, a hard-hewn representative of the U.S. Government who becomes a bureaucratic thorn in the side of The Avengers, especially during the Civil War period. While it's certainly conceivable that Freeman could turn a new leaf as a hard character, Millar's "obvious" comment implies that he could be giving the MCU a different interpretation of the Gyrich character, possibly as an awkward, exasperated pencil-pusher.
However, one recent rumor report indicated that Freeman would play a charismatic government agent, Everett Ross. That character is traditionally involved in the Wakanda storyline that was started in Avengers: Age of Ultron, and it is entirely possible that his involvement might help usher in Chadwick Boseman's introduction as T'Challa/Black Panther in the Civil War movie. Seeing as Ross would be a peripheral character in Civil War, seemingly unworthy of an actor of Freeman's caliber, it's possible that his presence could simply be used to set up a more consequential role in 2018's Black Panther.
More likely than not, we'll know what character Martin Freeman is playing in Captain America: Civil War well before it makes its May 6, 2016 debut.
Your Daily Blend of Entertainment News