What Captain America: Civil War Will Be About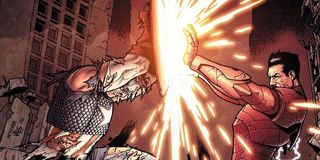 Less than a week after Avengers: Age of Ultron hit theaters here in the United States, Captain America: Civil War has officially begun filming in Atlanta, Georgia. Marvel kicked off the start of production by announcing all of the major characters who will be appearing, which included surprise names like Ant-Man and General Thunderbolt Ross, but they have also given a detailed plot synopsis of what we can expect from the 2016 blockbuster.
This is the official plot description, according to a press release from Marvel:
While the plot doesn't offer much in specifics, it is taking a detour from the original 2006 story. In that, the U.S. government introduced the Superhuman Registration Act after a tragedy in Stamford, Connecticut involving the New Warriors, a group of young, reality star superheroes trying to catch some fugitive super villains on camera. This capture attempt resulted in one of the villains, Nitro, using his powers to set off an explosion, which killed everyone in the area – including 60 children. It was after this incident that the rest of Marvel's major heroes got involved and began feuding amongst each other about the act.
Because the MCU is still relatively new compared to the longevity of the Marvel Comics universe, it's understandable that Captain America: Civil War would opt to have the Avengers be involved in the incident that gets the Superhuman Registration Act (or whatever its MCU equivalent is named) passed. They're the heroes who are in the public spotlight, so their actions matter more than most, and now the world's various governments have finally decided that superpowered individuals need to be regulated. This will divide the superhero community, with most of the characters either joining Iron Man's pro-registration side or Captain America's anti-registration side.
As for this nefarious new villain mentioned, it's likely to be longtime Captain America foe Baron Zemo, although oddly enough, Daniel Brühl was not labeled as Zemo in the announcement (despite the fact that the actor has already admitted his role). The other villain set to appear is Frank Grillo's Brock Rumlow, a.k.a. Crossbones, although since he debuted in Captain America: The Winter Soldier, so he can't really be classified as "new." Between fighting several of his superhero allies and dealing with these super villains, the Star-Spangled Man is going to have a lot on his plate next year
You can watch the superhero conflict unfold when Captain America: Civil War hits theaters on May 6, 2016.
Connoisseur of Marvel, DC, Star Wars, John Wick, MonsterVerse and Doctor Who lore. He's aware he looks like Harry Potter and Clark Kent.
Your Daily Blend of Entertainment News
Thank you for signing up to CinemaBlend. You will receive a verification email shortly.
There was a problem. Please refresh the page and try again.