Clint Eastwood's New Movie Just Moved Up To Try And Win An Oscar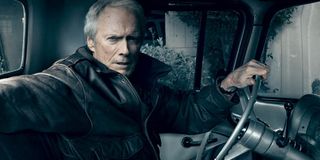 One of the many reasons Clint Eastwood remains a badass is his no-nonsense approach to filmmaking. When he makes a movie, he doesn't really want you to know about it, and he doesn't want to make a big stink out of how prolific he really is. Many times, that involves shooting a film as quick and efficiently as possible completely under the radar until the film is ready to hit theaters. It's only at that time that he'll grit his teeth and promote the work. It seems like he stuck to this script for American Sniper, which people didn't expect to see until 2015.
Warner Bros. has announced that it will be a Merry Clintmas this year, as Clint Eastwood's second film of the year, American Sniper, hits theaters on Christmas Day. It will be a limited release at first, though a broader exhibition will occurring when the movie hits multiplexes nationwide on January 16th. A former Steven Spielberg project, the film stars Bradley Cooper as one of the Navy SEALs' all-time greatest snipers, and it's based on the autobiography of Chris Kyle. Rumor has it, Spielberg bolted because he couldn't secure the type of budget he wanted. Eastwood, meanwhile, actually hired real SEALS to star in the movie.
This schedule shift likely makes American Sniper one of Warner Bros.' big Oscar hopes for the year, joining fellow WB candidates like The Hobbit: Battle Of The Five Armies, Paul Thomas Anderson's Inherent Vice and possibly even The Judge in the acting categories. It also lands the film in the thick of a typically-busy Christmas period of surprisingly diverse, interesting choices. Eastwood's war film is going to be opening on the same day as fellow deadly-serious Oscar films like the Tim Burton drama Big Eyes and Angelina Jolie's Unbroken, not to mention Into The Woods and the Civil Rights epic Selma. That's an embarrassment of riches for adult audiences looking for something mature (well, maybe not Into The Woods, but whatever). Families will also get to choose between Paddington and the second weekend of The Hobbit and Night At The Museum: Secret Of The Tomb. Oh, and holiday stoners are gonna love The Interview and Hot Tub Time Machine 2!
As mentioned, the wide expansion will occur on January 16th, a date the WB previously earmarked for The Man From U.N.C.L.E. (see you next summer, guys). But it will have to split the male audience vote with Michael Mann's Chris Hemsworth-starrer Blackhat, as well as the mass-appeal of the Kevin Hart comedy The Wedding Ringer and the animated Underdogs. Jersey Boys proved earlier this year that "Directed By Clint Eastwood" only gets you so far in today's box office, so WB hopes that they have a hit and an award winner ready to go this holiday season.
Your Daily Blend of Entertainment News
Thank you for signing up to CinemaBlend. You will receive a verification email shortly.
There was a problem. Please refresh the page and try again.