Comic Con 2012: Preview Night Costumes!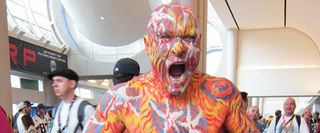 Hello from Comic Con 2012!
I don't know if you know me but I love costumes and passionate fandom! So while Team Cinema Blend is going to bring you the best of San Diego Comic Con 2012 as intrepid film and television journalists, I will be wandering around looking for the cool, weird and outlandish to photograph and send back to y'all.
Comic Con has only been open for an hour, but already the costumes are on full display, from an outside Batman, to a crazy body paint guy, to a puppet Yoda and...
...KORRA AND MAKO!
Let's ride folks!
Heart, Da7e.
Image 1 of 8
Image 2 of 8
Image 3 of 8
Image 4 of 8
Image 5 of 8
Image 6 of 8
Image 7 of 8
Image 8 of 8
Your Daily Blend of Entertainment News
Thank you for signing up to CinemaBlend. You will receive a verification email shortly.
There was a problem. Please refresh the page and try again.