Comic Con: Disney Panel, Tron 2 Revealed Live From Hall H!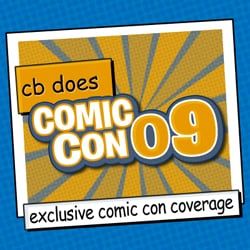 I made the ultimate sacrifice this morning and joined the throng of humanity waiting in line for Hall H at the ungodly hour of 7 a.m. And now I'm ensconced safely among the throngs of Tron, Twilight and Avatar fans, waiting to have my mind blown starting with Disney's 3D presentation.
And I'll bring you everything I see, as it happens, so long as the Hall H wireless holds out! Keep checking this space for news updates, anecdotes, and hopefully stories about what there is to see (besides lots and lots of Twilight T-shirts).
11:45 Robert Zemeckis is on hand to introduce brand-new footage from A Christmas Carol, his motion-capture spin on the classic Dickens tale. The scene gave us a great look at the spooky spectral spirit of Jacob Marley, who, of course, shows up late one night to scare Scrooge and promise that even creepier ghosts will follow. The 3D footage looked spectacular, but of course we can't show you; instead we have a photo of the still images they showed, featuring all of the characters Jim Carrey plays in the film. You've got Scrooge at a variety of ages, plus old man Scrooge himself, as well as the three ghosts-- Christmas Past, represented as a tiny flame, Christmas Present, the robust Hagrid-esque giant, and Christmas Future, who looks a touch like the Grim Reaper. Check out the photo below.
12:00 Tim Burton is here to introduce the new trailer for Alice in Wonderland, which presumably is the trailer that showed up online yesterday, but since I didn't see it I can't confirm that. The trailer is stunning. And even though 3D can feel like a gimmick at times, it works as a completely immersive experience for Alice-- even within the fairly crappy confines of Hall H. We got a look at all the characters in the film, with a healthy dollop of Johnny Depp's Mad Hatter character, who's basically the only one who gets any lines. He's doing kind of a similar weirdo Willy Wonka thing, but in this small dollop, it works really well. And Anne Hathaway looks terrifying as the White Queen, who seems to have Alice captive on her balcony or something.
I'm really just rambling at this point ,and Tim Burton is still answering questions as we speak, for the fawning fans who seem to want to talk to him more than ask real questions. Hey, that's Comic Con I suppose. They showed a photo of all the characters, which you've probably seen before, but hey, you need photo evidence right?
Oh and Johnny Depp showed up for approximately a minute, wearing a vest and looking insanely hot. The Twilight moms completely lost it. I'm pretty sure everyone in the room fell in love immediately.
The sexy man in the sexy vest is Johnn Depp, of course!
12:15 The Tron sequel is officially called Tron: Legacy. Here's a look at the new logo:
12:20 They showed off a bunch of concept art from Tron: Legacy, including the new lightcycles and the car versions of lightcycles. i was snapping photos way too quickly to get what any of these things are called. Also, the film is apparently set in some place called "Tron City." And that's not canon? Help me out here nerds. Concept art photos coming shortly.
Want more from Comic Con? This is just the tip of the iceberg. Get it all right here.
Your Daily Blend of Entertainment News
Staff Writer at CinemaBlend